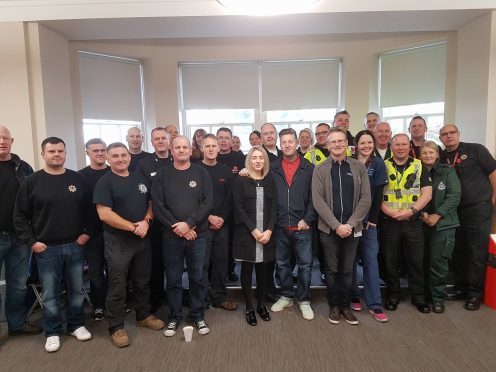 A bereaved father has hailed the "incredible strength" being shown by the family of tragic Tayside toddler Harlow Edwards.
Andrew Sneddon, 41, from Glenrothes, said it was extremely brave of Sara and Steven Edwards to share the family's experience to save the lives of others.
Mrs Edwards spoke at the annual Safe Drive Stay Alive programme in Forfar last week and pupils were reduced to tears as she delivered a bereaved parent's perspective.
Mr Sneddon's five-year-old son Ross was killed in Glenrothes in 2004 by a jobless hit-and-run driver who was high on a cocktail of drink and drugs.
He said: "They are just at the start of their journey and I'm 14 years down the road.
"I know what's ahead for them but they have shown incredible strength by doing something positive to try and educate young people about safe driving.
"It's incredibly important that we have voices such as Sara's at events like this and I will support them in any way I can."
Mr Sneddon has been a key speaker at Safe Drive Stay Alive road shows since the accident and has spoken to thousands of young people who are about to start driving.
"Safe Drive Stay Alive is very important because I don't think there is anything like this out there with the same impact on these kids," he said.
Pupils reduced to tears as Harlow's parents tell heartbreaking story of how dangerous driving can destroy young lives
"I could sit in a room with a therapist or a psychiatrist and get nothing out of it but when I talk to 500 kids it is very, very cathartic.
"Doing these events has also allowed me to come to terms with things in ways I never imagined but it's still incredibly difficult.
"I only have 10 minutes of video of Ross and that's the only way I can hear his voice.
"Milestones are difficult too and they will be for Sara and Steven.
"My son would have been 19 this year but I never got to take him for a drink.
"That's what I say to these kids – when you are old enough, take your dad for a drink.
"Forget about your friends, they can wait…take your dad for a drink and talk to him…because I never got that chance."
Sara and Steven Edwards spoke out to 1,000 pupils in Forfar to encourage them to make the right choices as drivers.
Texting driver Luke Pirie from Forfar was travelling at 50mph through the 30mph zone in Coupar Angus when he attempted to overtake a line of cars, lost control and mounted a pavement, hitting two-year-old Harlow, her older sister Dionne and a six-year-old boy.
Furious Pirie had been using his phone while driving to video call his partner Heather Eaton, who he suspected was cheating on him. He was jailed for six years after admitting driving dangerously.