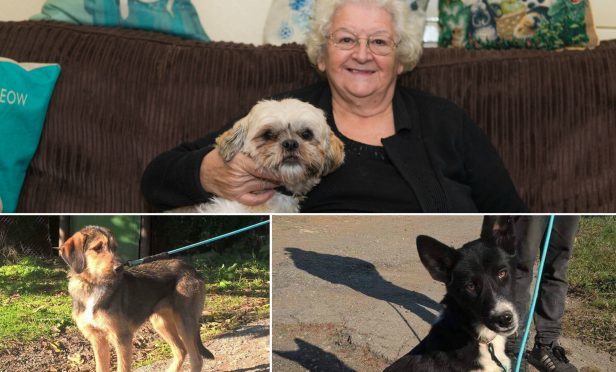 A retired teacher from Fife saved the lives of two starving stray puppies while holidaying in Bulgaria – and is now desperately trying to find them a loving home in the UK.
Anne Marie Grant, of Methil, was touring the Balkan country from mid September until October when she came across young pooches Rosie and Lisl, both of whom were malnourished and dehydrated.
The 67-year-old nursed them back to health in her rented apartment in Ruse and attempted to find a dog shelter for them in the country, only to discover they were all jam-packed.
She even tried tracking down British expats in Bulgaria who might want to take them in, but all of the people she contacted already had too many rescue dogs and were unable to care for any more.
Rosie was saved after Mrs Grant's taxi driver attempted to run her down on a trip, while Lisl was found on her last legs in a roadside layby. Both were "thin and starving", she recalled.
Mrs Grant has since been forced to place the pair in private kennels in Bulgaria, at a cost of £70 per week, and has paid for vaccinations and pet passports so they can begin a new life in the UK.
However, due to the nature of her tenancy and the fact she already owns a dog, she is unable to take in another two animals and is desperately seeking homes for Lisl and Rosie.
Mrs Grant, a grandmother of four, admitted the cost of paying for the dogs' stay in Bulgaria and their new start in the UK is beginning to take a toll on her finances.
They are due to arrive in the UK in three or four weeks.
She said: "I was on holiday in Bulgaria driving from the south to the north and there was a wee dog in a layby. Nobody was around, there was no food, no water and the temperature was about 40C. She was dehydrated so I gave her a drink of water and thought 'I can't leave her'.
"Then one day this taxi driver tried to run over another little dog. I took it with me. He was going to run her over because she was a stray. So I ended up with these two dogs.
"It is a terrible problem in Bulgaria. They just turn up at your door hungry and abandoned. Some are injured, some get disease.
"I tried various charities out there that rescue dogs, everyone said they were bursting at the seams. I was left with putting them into private kennels."
Mrs Grant said all she wanted now was to find a "nice home for them" in the UK.
She said: "I am only allowed one dog and I have already got a dog.
"These dogs are a few months old, I don't think I can keep up with them anyway. They are quite energetic and lively.
"At the moment I am paying £70 a week for the kennels, I paid all their vets bills to date and pet passports. I can't pay any more. I have got limited funds.
"I think they would make great pets. I love them to bits. I want to leave them, having given them a better life than they got. I would just like to know they are happy and healthy."
Anyone interested in offering Lisl or Rosie a home should phone 01592 713 196 or e-mail: grantannemarie411@gmail.com. Mrs Grant will offer support and arrange travel for the dogs.