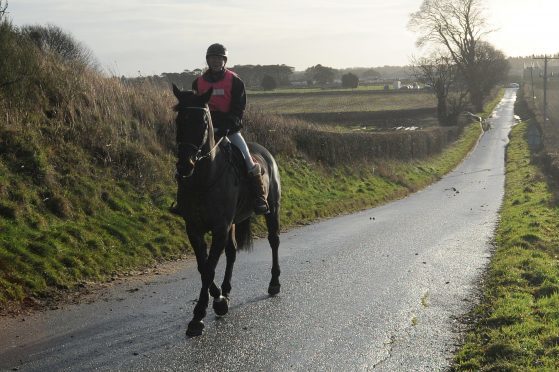 Motorists on rural roads are being urged to take more care around horses and their riders to prevent injuries and even deaths.
That's the message from equine enthusiasts in north east Fife following a number of near-misses in recent months.
The issue has been highlighted by Scottish Liberal Democrat leader and North East Fife MSP Willie Rennie, who was made aware of some of the problems local horse riders have been facing as a result of reckless motorists in the Cupar area.
Many horse riders stable their horses in the area and exercise them in the evenings and at weekends, but cases of vehicles passing too close, causing the animals to throw the rider or to panic and bolt, appear to have been on the rise.
"It is frightening to be high on the back of a horse on a road when you hear a car roaring towards you at speed," Mr Rennie said after hearing from riders.
"The risk to both rider and horse is high which is why we need cars to slow right down and give plenty room to horses.
"We slow down for children on the road, we should do the same for horses.
"Horse riders do everything possible to keep themselves safe but we need this to be a partnership with other road users."
Mr Rennie was speaking after being contacted by constituent Marilyn Copland, whose daughter has a horse at a livery yard in the Cupar area.
He said he was only too happy to pick up the mantle, adding: "This is a particular issue in north east Fife on narrow, country lanes.
"There's lots of people who enjoy horse riding and I want north east Fife roads to be known as horse friendly."
Mrs Copland said some drivers were unaware of what a horse can do on the road.
"They may look like they are perfectly safe and steady but even a noise from something in the bushes can make a horse jump," she commented.
"We need drivers to slow down and give us enough space, because we find ourselves not really being able to go around on the roads here now.
"There seems to be a real reluctance from some drivers – not all – to slow down.
"We now feel so worried that we have to put the horse in the horse box and go to the beach. It's disappointing but we just feel that it's too dangerous."
Figures from the British Horse Society suggest two people have been killed and 50 riders injured on Scotland's roads since 2010, while 10 horses have died and 43 were injured in the same period.
The tally sparked the Lose the Blinkers campaign in the Glasgow area earlier this year, with posters and leaflets urging drivers to give horses as much room as possible when passing and asking riders to ensure they are as visible as possible, particularly as the nights draw in.
Alan Hiscox, director of safety for the British Horse Society, said: "We want to remind drivers that horses can be unpredictable, and even the most well-trained horse can react to its instincts and want to move quickly away from what they consider to be a threat.
"It is worth remembering that there are three brains working when a horse and rider meet a vehicle on the road, the driver's, the rider's and the horse's.
"There is room for everyone on the road if we all show some consideration."