A new book by legendary St Andrews photographer Peter Adamson and renowned writer Dr Lorn Macintyre has captured the essence of the town in pictures and words. Michael Alexander caught up with the talented pair ahead of the book's launch.
Splashing through the waves on St Andrews' iconic West Sands, expert horsewoman Mandy Peden rides Magic through the surf accompanied by the frisky Oz on her right and the more docile Mia on her left.
She is a regular rider on the famous beach – usually in the early morning before the world awakes.
But on this occasion she has been joined by legendary St Andrews photographer Peter Adamson – a man renowned for never seeming to have a camera out of his hands and for having an acute artistic eye for a subject.
Peter, 79, has been taking photographs in and around St Andrews for 50 years.
However, as he launches his new book St Andrews Through Time and Tide, co-produced with renowned wordsmith Dr Lorn Macintyre, he reveals he has never tired of capturing the human side of the St Andrews community and feels "privileged" to have had the opportunities to capture life in the town over the decades.
"The picture of Mandy Peden on the West Sands is one of my favourites and was the ideal choice to put on the cover of the new book," says Peter, who donned a wetsuit to enter the waves for the perfect angle when taking the picture.
"There's another one I really like of a wee boy wandering into the Keys pub on Market Street and of the ducks that wander around the town centre. Everyone knows the ducks!
"It's been an absolute privilege to photograph St Andrews over the years. No question about it. This book tries to look at such familiar people and places with a new eye."
The son of a First World War veteran who studied philosophy at St Andrews University and went on to become a missionary in India, Peter was born in Kelso, and brought up in Edinburgh during the Second World War years.
He had a passion for photography since boyhood – the first picture he took with his Box Brownie camera was of the back of his cat! – and after four years in the RAF where he "learned quite a lot about people and nothing about photography", he studied at the then London Polytechnic School of Photography for three years, going on to work at Kodak for two years where he taught colour printing.
In 1965 he moved to work at DC Thomson & Co Ltd's colour laboratory in Dundee. However after two years he moved to St Andrews to work in the university's art history department, slowly becoming recognised as St Andrews University's unofficial photographer.
His role went from "strength to strength" as he became more involved with photographic work in the wider community and with the local press.
In the 1980s he produced a book called St Andrews by the Northern Sea.
However, his book publishing really took off after he met Dr Lorn Macintyre through the university photographic department.
They collaborated on a number of titles including St Andrews: Portrait of a City in 2004 and others including a spotlight on Dundee, Madras College, Waid Academy and the East Neuk.
While Peter took care of the photography, Lorn, now 75, who made a living as a full time writer and education journalist before becoming a researcher and scriptwriter for the BBC, took care of the words.
He and his wife Mary have lived in St Andrews since 1985 and, like Peter, have seen a "lot of changes" in the town.
However both continue being inspired by what few will deny is a special place.
"We only decided to do the new book in February so I've been working flat out to get pictures done since then," explains Peter.
"The idea was to look at St Andrews through different eyes: to look and see what I hadn't seen before. I wanted to introduce science at the university too. "Science here has an international reputation. It's astounding. The title just came up in conversation with a friend.
"I was interested too in highlighting to a greater extent the community because I feel very community minded as a person. I think the older one gets you get more interested in the value of community."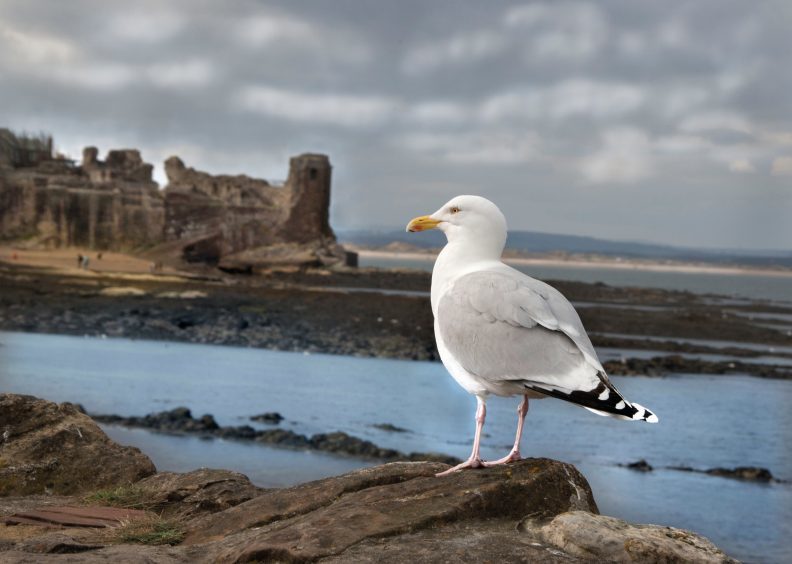 From local police officers to fire service personnel and from hardy students braving the May Dip to children at local primary schools, a cross section of St Andreans are well represented in the 184-page hard backed book which also shows off familiar landscapes and buildings in a new light.
But after seven books together, will this be the last collaboration?
"Probably!" laughs Peter. "I say that every time – then the next one comes out!"
However, Lorn sees things differently.
"Peter can't retire!" he says with a wry smile.
"He'll flop to his knees one day with a camera in his hand, which would be the very best way to go!"
*St Andrews Through Time & Tide is being launched at Topping & Company bookshop,  7 Greyfriars Gardens, St Andrews, on Wednesday November 22 at 8 pm, with the authors talking about selected photographs that will be projected.