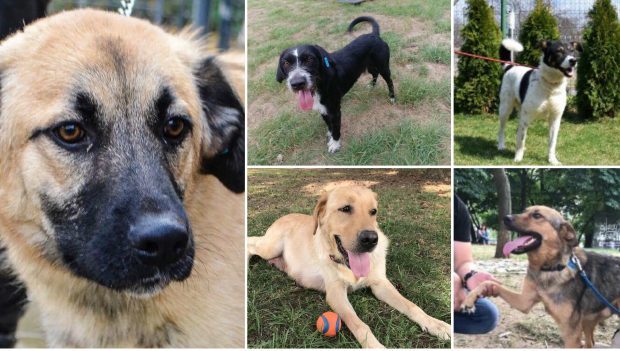 A Fifer who saved two stray dogs from death while holidaying in Bulgaria is now helping a charity in the country find "urgently" needed homes for five pooches facing homelessness.
It comes after Anne Marie Grant, of Methil, said she received a "brilliant" response to an appeal in The Courier for homes for pups Rosie and Lisl, who she found starving and dehydrated while in the Balkan country.
The 67-year-old grandmother went out of her way to pay for the dogs to be housed in Bulgarian kennels, vaccinated, micro-chipped and flown to the UK to find new owners. She made the arrangements despite the burden on her own finances.
Late last week, nine people came forward from across Angus, Dundee and Fife following the appeal and Mrs Grant said she is "sure" both dogs will end up in "happy" homes as a result.
And now she is helping charity Stray Angels Bulgaria, which is based in the Bulgarian capital of Sofia, re-home another five dogs after it emerged the "hostel" the animals are staying in will be demolished in early December.
'I love them to bits, but I can't take them in': Fife woman who saved starving Bulgarian pups in desperate bid to find them UK homes
Mrs Grant said: "I am more than certain Rosie and Lisl will be homed now. The people that have phoned me are so supportive. I am fairly certain from talking to them. Many of them, their own pets have died and they are looking for a replacement.
"Rescue dogs give an awful lot more than other animals, they seem to respond more to you because they are grateful. I'd encourage everyone to get a rescue dog.
"And I have now been contacted by Stray Angels to see if I can re-home five dogs for them. They have got to get them homed. I want to help my colleagues who helped me in Bulgaria."
Speaking from Sofia, Nora Vakova – the co-founder of Stray Angels Bulgaria – said the cut-off date for transporting the five dogs to the UK is December 8, and that the work of the charity will be in jeopardy if they do not find families.
She added the dogs need "urgently re-homed".
The dogs in need of homes are named Eddie, Charlie, Nadia, Cicio and Amor.
"They are currently at a hostel that is being demolished. We are an NGO (non governmental organisation), we don't have a shelter of our own for various reasons," said Miss Vakova.
"All our animals are either at foster homes or stay at a 'hostel' or 'hotel'.
"The five we are speaking about are staying at a hostel that is being demolished at the beginning of December. We have nowhere else to put them.
"There is not really anywhere else that would be able to give us the prices we have got there.
"We give them all the medical care they require, we get them fully chipped, vaccinated and equipped to travel. All five are ready to travel".
She added though the dogs would never be put down by the charity, it would be "very hard" for Stray Angels "to continue with the job we are doing" if new owners are not found.
The dogs will cost £200 to be fully prepared and transported to the UK, after which a "vet check" upon entering the country will be required for about £50. Stray Angels and Mrs Grant will make the arrangements with prospective owners.
If you are interested in adopting one of the canines call 01592 713 196 or e-mail: grantannemarie411@gmail.com. Alternatively contact Stray Angels. Details can be found at https://strayangels.org/.