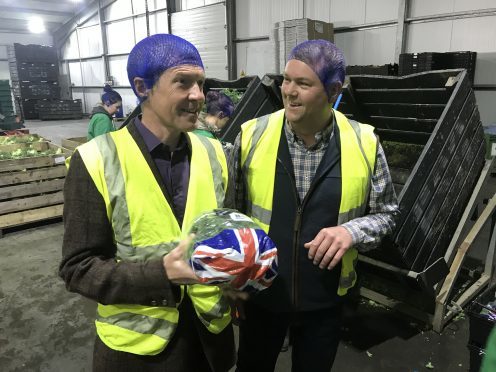 Farms are facing a major labour shortfall as EU workers shun Britain.
There are widespread fears for the future of the region's agricultural sector as migrant labourers choose to remain in mainland Europe.
Having enjoyed major growth in recent decades with the assistance of foreign labour, the weak pound means that many European workers can no longer afford to seek work in Taysideand Fife.
Warning that many farms were concerned about workforce shortages ahead of next summer, Andrew Faichney, managing director of East of Scotland Growers, said: "The impact would be catastrophic if we can't get workers.
"The industry will simply not grow without a workforce."
He continued: "The currency issue is probably the biggest factor.
"Workers from Europe would see it as a pay cut coming here now and countries like Germany, Belgium and Holland are probably more appealing."
Thousands of foreign workers descend on Tayside and Fife every summer to provide labour for the region's agricultural sector.
However, earlier this month the National Farmers Union called on the government to introduce a seasonal workers scheme, claiming fruit was rotting on British farms because it was not being picked in time, due to falling numbers of foreign staff.
Barnsmuir Farm, near Crail, employs around 350 pickers every year but owner Rob Stockwell said he expects a drop of up to 15 per cent in his workforce next year.
He said: "We are planning ahead now and have spoken to labour providers that we use in the UK and a couple in Latvia and Romania.
"At the moment we are not planning on planting less. We hope we get the numbers of people that we need (but) we have got to carry on with the plans we have and try to encourage people to come over."
Long-term prospects of Fife's farming industry under threat, claims MSP
The long-term prosperity of Fife's farming industry could be jeopardised unless steps are taken to encourage migrant labour, it is claimed.
Willie Rennie, MSP for North East Fife, said that there remains " huge opportunities" for the region's agricultural industry, but that foreign workers were crucial in allowing the sector to fulfil its potential.
Alarmed by what he has heard from local business owners, he said it was crucial that European workers were attracted to the region.
"There has been three farms I have spoken to that have all cobbled together a workforce, but they are struggling," he said.
"All of them have reported that it is much more difficult to bring in people because of the exchange rate, which means that they are not going to earn as much.
"There is also a feeling among some workers that they might not be wanted, and that is driving people away.
"I really fear for a sector that has grown dramatically on the back of Eastern European labour.
"Some of these farms are employing numbers in the region of Rosyth dockyard. These are vast businesses.
"There are still huge opportunities but the industry needs the right workers in the right place."
Glenrothes MP Peter Grant said it is crucial to secure the rights of EU workers in the UK as soon as possible, as Brexit negotiations continue.
He added: "Scotland's agricultural sector is reliant on migrant workers, particularly for fruit and vegetable production in Fife.
"Not only do EU nationals play a key role in supporting this vital part of our economy, they also make a valued contribution to our society and culture, helping to make Fife the richly diverse place it is today."