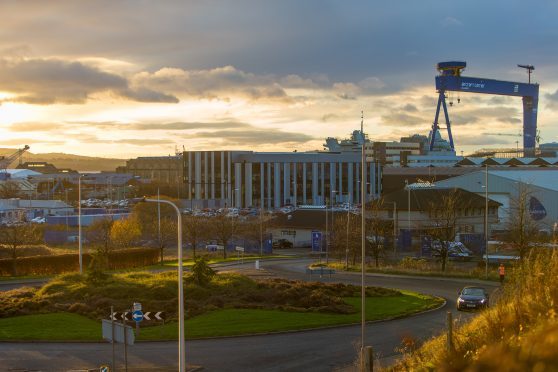 Unions have warned more must be done to end a 'feast and famine' culture on shipbuilding contracts across the UK in light of the mass job losses at Rosyth this week.
The Confederation of Shipbuilding and Engineering Unions (CSEU), which incorporate GMB and Unite, has called on Babcock International Group to ensure there will be no imposition of compulsory job cuts at the Fife naval base after the company confirmed on Tuesday that 250 posts have been earmarked for the axe.
Joint trade union representatives were told redundancies are likely to affect 104 blue collar posts and 141 office jobs, with Babcock suggesting it is an "inevitable" result of winding down work at the yard after the first of two ships under the Aircraft Carrier Alliance contract was completed.
The Courier understands workers have been told the statutory consultation period will run until the end of January 2018 but, with many families left shell-shocked by the news so close to Christmas, the unions have demanded Babcock achieves the reduction through voluntary means only.
Unions insist on no compulsory redundancies at Rosyth Dockyard
CSEU Scotland chair Gary Cook called on the Ministry of Defence (MoD) to do what it can to end a 'feast and famine' approach to contracts like the one taken on at Rosyth.
He explained: "The aircraft carrier contract has delivered significant levels of employment in Rosyth for nearly a decade but, as the work on the carriers draws to end, it poses serious questions for the future.
"At its current capacity the work at Rosyth supports over 3,800 jobs across Fife and delivers £106 million in wages for the Scottish economy – by the end of January those jobs and that value will be reduced.  This cannot be the start of a downward spiral.
"First and foremost, achieving these redundancies on a voluntary basis is entirely within Babcock's gift and it is the least this employer can do to recognise the massive contribution of the workforce to the delivery of the aircraft carrier programme."
Babcock said the prospects for its operation in Rosyth remain good and labelled work on the HMS Queen Elizabeth and the HMS Prince of Wales as "an outstanding success story".
"Unfortunately, given the one-off nature of this large-scale programme, as the ships begin to be handed over to our customer we must inevitably reshape our business to remain competitive and take on new challenges, which we firmly believe exist for Rosyth," it said.
"However, medium-term opportunities cannot compensate for the 250 or so specific roles and capabilities no longer need with the slowdown of the QEC work."
But Unite convenor at Rosyth, Raymond Duguid, stressed: "These proposed job cuts are a confirmation of the failure of the UK Government's National Shipbuilding strategy.
"Yards like Rosyth cannot thrive on piecemeal work and this government should be awarding all complex warship and fleet auxiliary vessel manufacture to UK yards.
"That's the key to unlocking the massive potential of UK shipbuilding and ensuring continued prosperity for working class shipbuilding communities like those in Fife."
Scottish economy secretary Keith Brown said the Scottish Government will provide support to those facing redundancy through its Partnership Action for Continuing Employment (PACE) initiative.
"PACE aims to minimise the time which individuals facing redundancy are out of work by providing skills development and employability support and I hope it is of some comfort to those employees affected that PACE has an excellent track record in supporting people back into employment," he noted.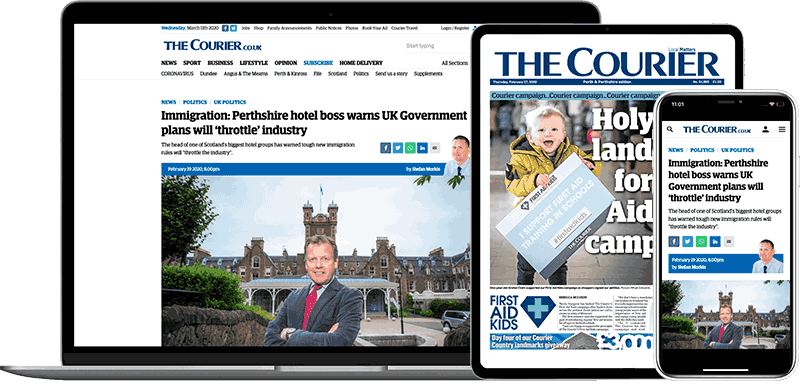 Help support quality local journalism … become a digital subscriber to The Courier
For as little as £5.99 a month you can access all of our content, including Premium articles.
Subscribe