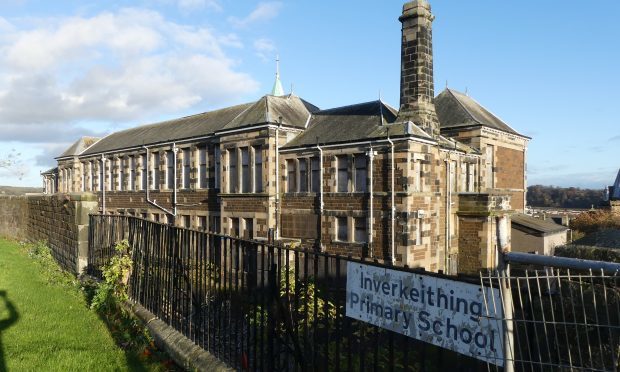 An ambitious 11th hour bid has been launched to save an Inverkeithing landmark from the wrecking ball.
A community group wants to see the category C-listed former primary school transformed into housing tailored to the needs of older people.
A drop-in session outlining the plans will be held on Monday, just a day before councillors decide whether a developer can demolish the 145-year-old building.
Allanwater Developments has applied for planning permission to knock the old school down to make way for 28 affordable homes.
The firm argues that the building has fallen prey to vandals as its condition has deteriorated beyond repair.
Allanwater also claims it has been unable to sell it.
In a report to go before West Fife planning committee on Tuesday, council officers recommend the demolition application be refused.
They have concluded that while the upper floors may be unstable, the external masonry is largely sound.
Planners said there would be no objection to a radical internal alteration in order to retain the external building.
The Fife-based Vivarium Trust hopes refusal will give it a chance to work on alternative plans to renovate the school to create Scotland's first co-housing community designed specifically for older people.
The trust's Alan Prendergast said: "The old school building is a great landmark and much loved by people as a place where they spent their childhoods.
"Recently it's been allowed to deteriorate to a dreadful condition but we'd like the opportunity to work with local people to give it a new lease of life.
"As well as transforming a derelict listed building, the project would deliver on key public sector strategies for housing, community empowerment and older people."
Scottish Greens MSP Mark Ruskell said he believed it was an interesting project with lots of potential.
"Co-housing has become a valuable option for older people in the Netherlands and Scandanavia in recent years and it's high time we had the chance to explore this option in Scotland too."
He added:  "This could be a win-win situation, giving a new life to this iconic building whilst providing an innovative housing opportunity for older members of the community."
The trust has arranged a drop in information session from 3pm to 8pm on Monday in Inverkeithing Civic Centre.
More information can be found on the What's Happening Inverkeithing and Vivarium Co-housing Facebook pages.