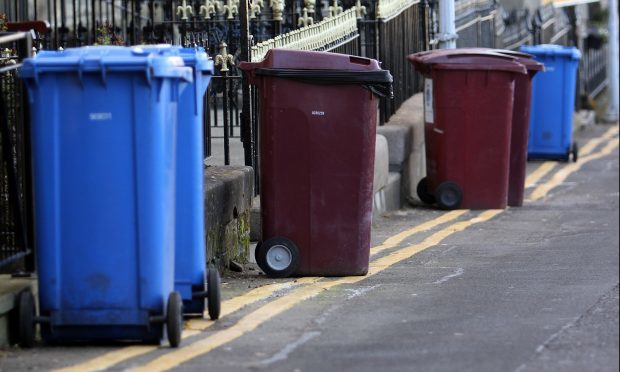 Fifers have been urged to recycle responsibly amid suggestions almost £2 million of taxpayers money was "thrown away" last year due to misuse of bins.
The startling figure has been highlighted by the region's Liberal Democrat community safety spokesperson Councillor Margaret Kennedy, who believes more cash would be available to the local authority for frontline services if householders properly followed the rules.
The news comes at a time when the cost of separating out and disposing of incorrect items in recycling bins is increasing for councils across Scotland.
Last year, statistics reveal that Fife Council had to landfill over 3400 tonnes of waste from brown bins, equivalent to nearly 10% of the contents of all brown bins in Fife.
And 529 tonnes of incorrect waste was found in grey bins — representing a contamination rate of more than 3.5%.
Ms Kennedy explained: "According to Fife Council's environmental service, around 48,000 tonnes of material, incurring £4.4 million in charges, was put in the blue landfill bins in 2016, of which around half could have gone into kerbside recycling bins.
"In addition, that recyclable waste incurred landfill tax and gate fees of £1.63 million.
"Had it been recycled the bill would have been £2.77 million rather than £4.4 million.
"Effectively, Fifers threw away nearly £2 million into landfill sites which could have been used to provide vital council services."
Ms Kennedy added that she had figures suggesting that around a quarter of the landfill waste which could have gone into other bins was waste food which should have gone into the brown bins, 19% was cans and plastics which should have gone into the green bins, and 8% was paper and cardboard which should have gone into the grey ones.
Cross-contamination of bins remains a huge problem, and many Fifers are still unaware as to what things can and cannot go in the kerbside recycling bins.
The Courier understands that some common examples of incorrect items found in recycling bins include plastic wrapping and polystyrene in grey bins that should have gone in the green bin; animal waste and pet bedding found in the brown bin that should have gone in the blue landfill waste bin; electrical items in the green bin that could have gone to a recycling centre; and toys that could have gone to a charity shop.
Many people are unaware that pizza boxes cannot be recycled if they are stained with grease, with soiled tissue or kitchen roll in the same boat.
Wet wipes or baby wipes are not recyclable either, neither are crisp packets, which are made from a metallised plastic that is not recyclable, and metallic or glittery wrapping paper, which contains non-paper additives.
Councillor Ross Vettraino, convener of Fife Council's environment, protective services and community safety committee, said: "Recycling makes good sense, both economically and environmentally.
"If the contamination of the recycling bins is reduced, then more waste can be sent for recycling, less waste would have to be landfilled and there would be huge savings in landfill tax, which could be used to improve services.
"When recycling bins become contaminated it often means that some or all of what is in the bin cannot be recycled.
"This spoils the excellent efforts most people are making in separating their household waste and means that the council has additional costs to dispose of it in landfill.
"The council is committed to making sure Fife maintains its place as one of the best performing councils for recycling in Scotland and continue to urge people to recycle as much as possible."
More information on recycling is available online at www.fifedirect.org.uk/4bins or by calling 03451 55 00 22.