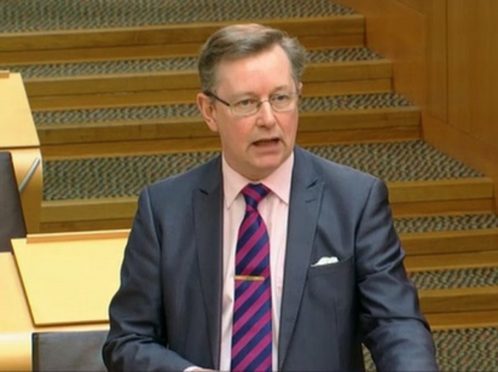 The Scottish Parliament has heard a call for greater awareness of brain tumours following the death of a young dad of two.
Mark Richardson from Dunfermline passed away at the age of just 32 in May last year as a result of an undiagnosed tumour.
He was found, collapsed, by his wife Shona in the family home he shared with her and their two sons.
Mr Richardson had been suffering from fatigue and neck pain and endured a bleed on one of his eyes but despite tests nothing was found.
The lack of diagnosis highlighted the fact that brain tumour symptoms can be challenging to detect and diagnose accurately.
It prompted his family to raised tens of thousands of pounds for The Brain Tumour Charity and has now seen one of the family's local politicians raise the issue at Holyrood.
Mid Scotland and Fife Conservative MSP Alexander Stewart spent some time visiting with the charity and looking into the condition before staging a debate in the chamber.
He delivered a seven minute speech before asking fellow MSPs to sign and support a motion calling for greater awareness of brain tumours.
Mr Stewart said: "After hearing of the experience of my constituent Mark Richardson and understanding the devastating consequences of a late or inaccurate diagnosis, I wanted to use my influence as a member of the Scottish Parliament to further this cause.
"I strongly feel that something more must be done to increase the awareness of brain tumours and indeed the seriousness of the condition as a whole.
"Brain tumours are the largest killer by cancer of children and adults under the age of 40 in the United Kingdom and they also reduce life expectancy by an average of 20 years, which is the highest of any cancer we currently know of.
"971 people in Scotland were diagnosed with a primary brain tumour in 2014 with a total of 475 people in Scotland dying from the disease in 2015."
Despite the serious consequences of brain tumours, they remain a comparatively uncommon form of cancer and symptoms can be difficult to detect.
Mr Stewart told colleagues: "Brain tumours suffer from an acute lack of awareness among members of the public and healthcare professionals alike.
"It is worth noting that given the uncommon nature of brain tumours, most general practitioners will only ever encounter a handful of cases throughout their professional career.
"Almost a third of people who are experiencing symptoms actually visit a healthcare professional more than five times before even being diagnosed.
The motion was signed by 50 MSPs.