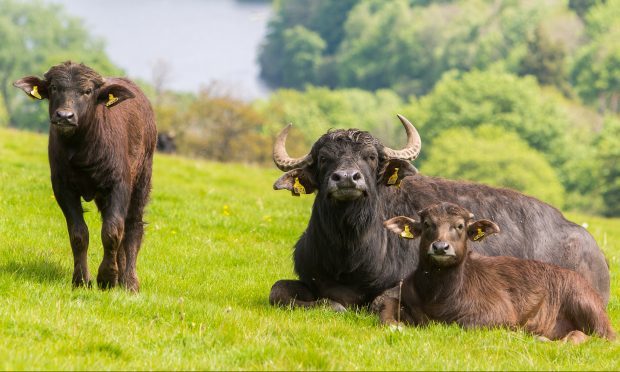 A Fife buffalo farmer has offered a reward after one of his herd escaped.
The 400kg beast managed to break free while being weighed and was last seen heading in the direction of Cardenden Woods.
Stevie Mitchell, of Buffalo Farm, said the animal posed no danger to the public and he was becoming concerned about its welfare.
"It's a yearling and is not fully grown," he said.
"It's probably about 350 to 400kg. It's got quite small horns and would be more scared of you than you are of it."
Yearlings were being weighed and wormed at Torbain Farm on Saturday when the animal slipped through a narrow gate.
"The fact that no-one has seen it makes my heart sink because it's maybe become injured," said Mr Mitchell.
"If anyone sees it, they should let me know what direction it went in.
"Whoever does spot it for us, I'd like to supply them with Christmas dinner as a thank you."

Mr Mitchell believes the animal became spooked.
"It's very rare for one of them to go off on its own like this." he continued.
"It got itself through a very narrow gate and in the process slipped down a bit of a bank.
"It must have given itself a fright."
The farmer let out a couple more buffaloes in the hope they would help lure the stray back.
"By the time we got a couple more out to entice it to come back, it fled."
Mr Mitchell said the area was likely to be busy with dog walkers and he urged anyone spotting signs such as buffalo droppings to contact him.
He added: "The troops have been out looking for it but there's been no sign at all.
"It was last seen crossing a field to Cardenden Woods. Unfortunately the frost means the ground is so hard it isn't leaving any footprints.
"We're very concerned it's hurt or injured."
Anyone with information which could hep trace the buffalo can contact The Buffalo Farm on 01592 646252.