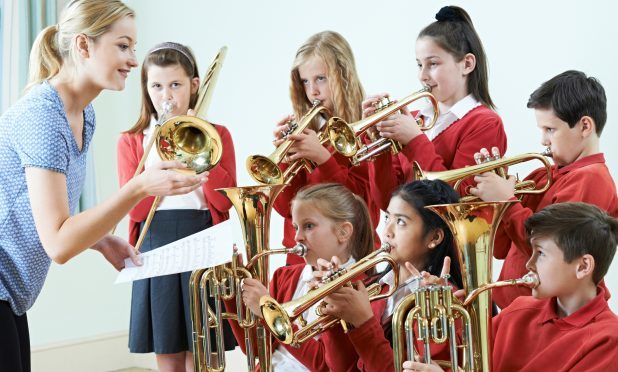 Fife Council leaders say they have rejected proposals to "decimate" music tuition in schools.
Co-leader David Alexander said it was never the local authority's intention to axe the service as part of its budget-saving exercise in February.
The news will come as a relief to the hundreds of concerned parents who had signed a petition calling for music lessons for youngsters to be saved.
An online petition and Facebook campaign  started by Conservative councillor Linda Holt had called on the council to reject what was described as a destructive proposal to cut all music instrumental tuition in Fife schools.
It had been signed by almost 1,500 people by Wednesday lunchtime, with those commenting saying such a move would damage children and result in a poorer society.
Removing music tuition is one of dozens of suggestions put forward by officers for consideration prior to the budget and would have saved the council £410,000 in 2018/19, rising to £615,000 the following year.
Council officers submit a range of money-saving options every year and councillors choose which to include in their budget proposals for a decision by all local members.
Some ideas are more contentious than others and mooting the stopping of music lessons always sparks protest.
Mr Alexander said councillors would still have some big decisions to make.
The SNP councillor added: "Councillor Holt has gone to all the bother of starting a petition and putting it on Facebook but it's over the top.
"We were never going to scrap music tuition as part of our savings."
Ms Holt welcomed the commitment to retain the service but has now called for assurances that it would not face any cuts or price rises.
The East Neuk councillor had claimed cutting instrumental tuition for all pupils other than those taking SQA music would decimate musical opportunities for children.
"Learning any instrument will become an exclusive activity, reserved for those who can find and pay for a private teacher," she said.
"If this cut goes through, hundreds of children will give up their instruments, thousands more will never get the chance to start one."
In June, music tuition was branded Fife's Cinderella service following a 44% price hike in just two years.
In 2017/18, charges rose by a third, taking the annual price to £180.