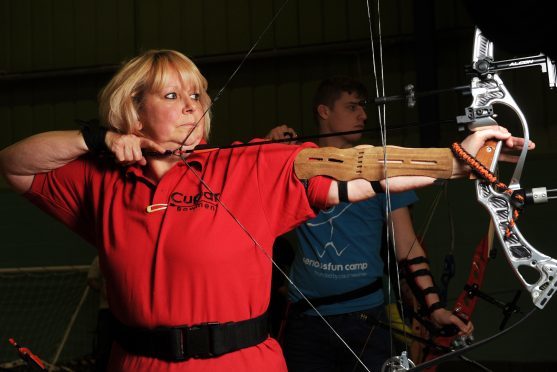 Michael Alexander meets Sue Thomson, secretary of Cupar Bowmen, on a club night at Cupar Sports Centre
With the shriek of a whistle, the archers step forward to the line of cones, raise their bows, take aim and fire their carbon arrows towards the brightly coloured targets 18 yards away at the back end of the sports hall.
It's a sport of skill, accuracy and concentration, and only when the last of their multiple shots have been fired does the supervisor blow three blasts on the whistle indicating it is safe to retrieve their arrows and check their scores.
Welcome to a Cupar Bowmen club night where a range of ages from 12-year-old girls right through to pensioners, and complete novices right through to medal winning disabled veterans, are honing their archery skills in a fun and safe environment.
Club secretary Sue Thomson, 55, has been a member for around 15 years.
Originally from Somerset and raised in Kent, she served with the RAF for 6.5 years – finishing up at RAF Leuchars where she worked in communications.
However, the former St Andrews Rifle Club member decided to give up shooting in favour of archery in the wake of the 1996 Dunblane massacre.
"I used to shoot. 22 calibre weapons but I gave that up after Dunblane because I felt it was wrong to enjoy a sport using something that had caused so much heartbreak and anger," says Sue, who is married to a Fifer and whose son James is also a club member.
"I thought 'I can't keep saying I shoot for a hobby'.  So I looked around for something similar and I met a member at badminton club in Cupar Corn Exchange.
"I liked the idea of targets – I was quite good at shooting – so I thought let's take it up and see how it goes!"
With the origins of archery dating back thousands of years, beginners at Cupar Bowmen – which was founded in 1987 and, despite the name, has many female members – tend to start out using one of the not-for-profit club's bows – made from compound stainless steel and carbon. A standard one costs around £170.
Sue now has her own 'Compound' bow, which she bought second hand for £350, which includes a telescopic sight.
"You can shoot with both eyes open – a lot of the professionals do – but when you see two images you've got to know which is your dominant one," she says.
"I'm getting a wee bit short sighted. It's a bit fuzzy down there – more in my right eye, and I'm right eye dominant.
"So that's why I've gone to Compound which is known as the 'dark side' – it brings the target more into focus."
Sue, who volunteered at the 2010 Archery World Championships in Edinburgh and the London 2012 Olympics, explains the scoring system – 10 and nine for gold; eight and seven for red; six and five for light blue; four and three for dark blue, and then two and one for white.
And while there is an emphasis on fun, the club also run a number of competitions with prizes.
"I just enjoy it!" she adds. "I like the way I've improved over the years. I like the way it concentrates my mind. It's just fun. It's just enjoyable.
"It's nice to compete against other people. I've always liked it. And it's something that I'm actually not bad at!"
Cupar Bowmen are always looking for new members. To find out more go to cuparbowmen.co.uk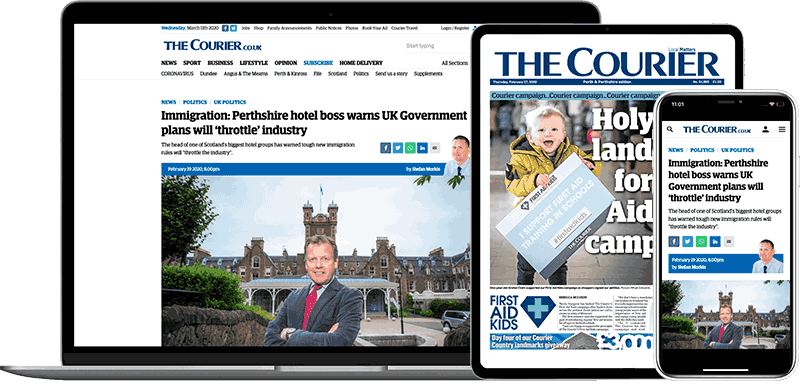 Help support quality local journalism … become a digital subscriber to The Courier
For as little as £5.99 a month you can access all of our content, including Premium articles.
Subscribe