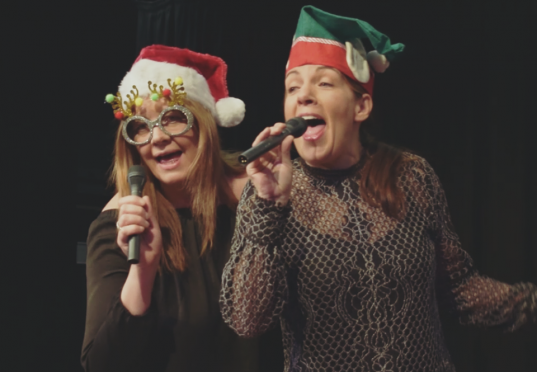 It might not be on a par with Band Aid just yet, but a Christmas video by NHS Fife staff has proved to be a smash hit online.
Fife health board has been given the thumbs up by judges after its X-Factor themed festive production clocked in more than 112,000 views on Facebook over the weekend.
The video, which shows a panel of ruthless young judges, two nurses butchering Wham's 'Last Christmas' and departments from across NHS Fife singing Shakin' Stevens 'Merry Christmas Everyone' was produced in-house and released on social media on Friday morning.
The video has quickly gained popularity – or should we perhaps say notoriety? – and has been shared far and wide by people on social media.
NHS Fife chairwoman Tricia Marwick, who also performed with fellow board members, said she was delighted to see the lighthearted video so well received.
She said: "This video was great fun to be a part of and it has been an early Christmas gift for everyone at NHS Fife.
"A hospital can be a serious environment and our staff can have difficult days, but it's also a place where teams and services forge incredible team spirit and camaraderie – I think you can see that in our video.
"It's created a real buzz about the place and it's what everyone has been talking about since it came out."
NHS Fife chief executive Paul Hawkins, who makes a comically Scrooge-like appearance at the end of the video, said he was pleased that so many staff took part.
"Maternity, podiatry, day surgery, children's ward, domestics, hospice staff, volunteers – they are just some of the services that took part to make it the success it is," he added.
"Christmas is about coming together to have a good time and everyone left their serious faces at the grotto door when it came time to start filming.
"Our staff aren't just the stars of this video, they're also the stars of NHS Fife and we are very lucky to have such a great team of people in our hospitals and out in the community."