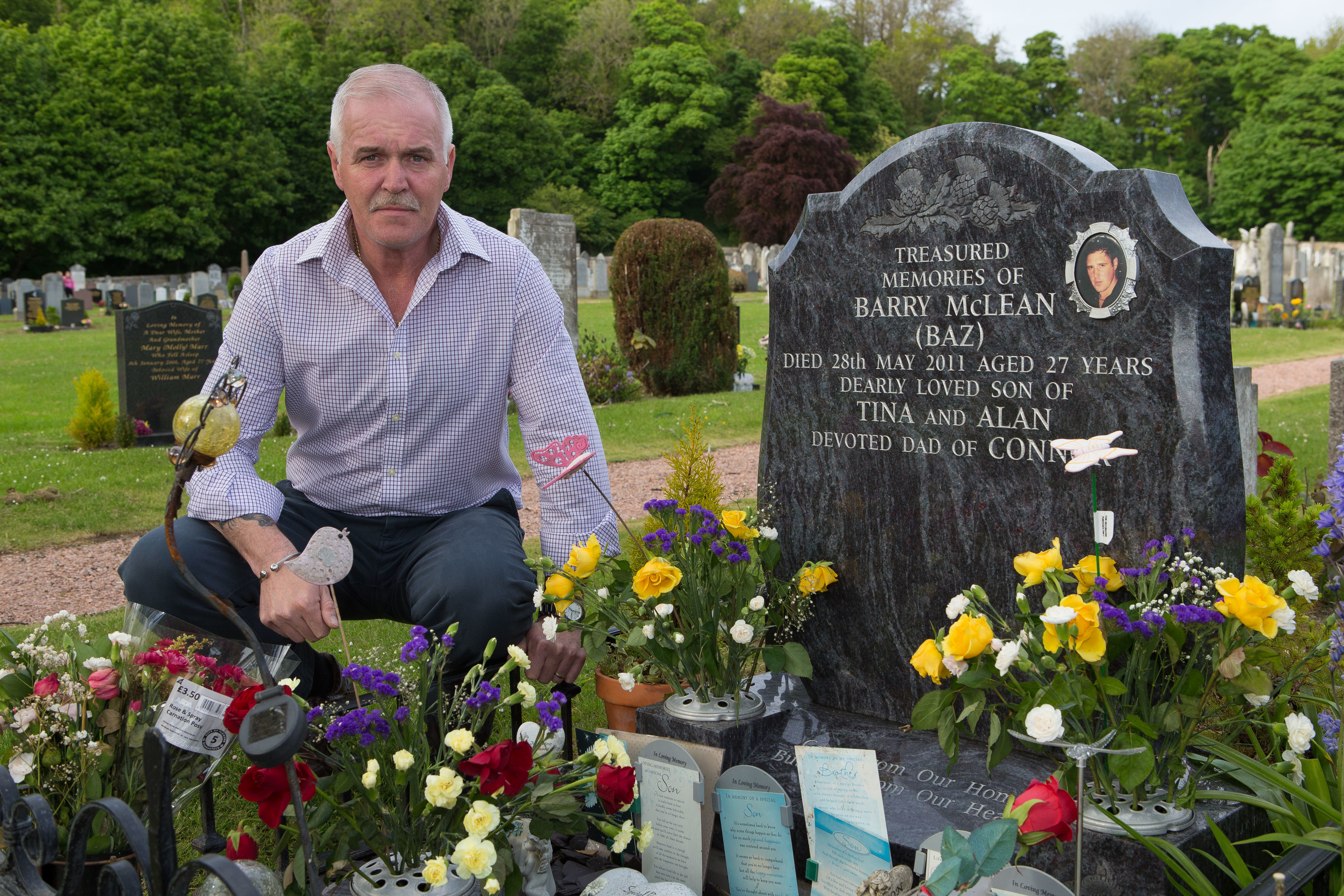 The father of a Fife man who lost his life to knife crime more than six years ago has spoken of the heartache that Christmas brings when everything comes "flooding back".
Alan McLean, 54, of Burntisland, says that until a parent has experienced losing a child – no matter what age – then no one understands the "everlasting devastating pain".
Barry McLean was just 27 when he died after being stabbed on May 28, 2011.
He left behind his baby son Connor, and partner Jennifer.
His killer, Sean Kitchener, admitted "poking" Barry with a kitchen knife but made a plea of self-defence during the 14-day trial at Edinburgh High Court in August 2012.
A jury, including one member who made headlines for "falling asleep" during the case, cleared him of murder by the smallest majority and Kitchener walked free.
With no right of appeal, the McLean family have been campaigning since for harsher penalties against knife crime.
Contacting The Courier to highlight their on-going pain, Mr McLean said: "Six years have gone by without seeing or hearing Barry's voice and laughter – it's the most difficult experience to lose a child no matter what age but when those special occasions arise like Christmas, birthdays etc. it brings everything flooding back in great detail and always will.
"The wrapping of Christmas presents is extremely difficult and painful. You know that you won't be wrapping and giving gifts for your son, because someone decided to take his life with a knife.
"People say that the pain will get easier as the years go by. I can assure everyone that it does not get easier. It is there with you every day."
In recent years the McLeans organised several high profile 'Ditch the Knives, Cherish Life' anti-knife crime marches.
Mr McLean had several meetings with the former Justice Secretary Kenny MacAskill and MSPs.
Three years ago Mr McLean even took his campaign to the Scottish Parliament's petitions committee.
Criticising the current system for selecting jurors as a "lottery", which made it possible for "incompetent" people to be chosen, he called for the introduction of a suitability test.
Despite being told this would undermine the Scottish judicial system, he continues pushing for judges to be allowed to refer "perverse acquittal" jury verdicts to the appeal court for review.
Barry's sister Lisa has also kept a focus by visiting numerous Fife schools, pleading with pupils to avoid the "devastation" her family have felt, urging children to "ditch the knives."