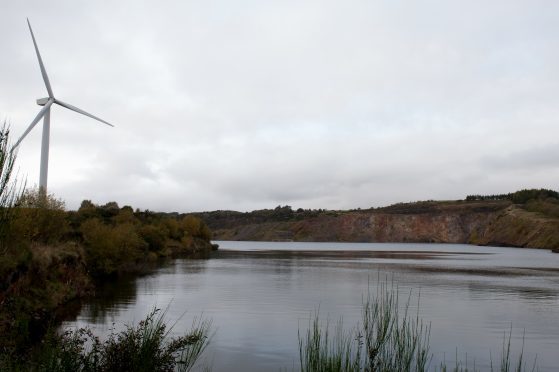 Controversial plans to regenerate a former Fife opencast site have been branded a "mockery".
David Taylor, the secretary of Cardenden Community Council, has called for Fife Council to withhold planning permission for applications relating to the derelict Westfield site near the town, claiming that developers are deviating from a masterplan approved for the area.
Mr Taylor said: "The masterplan for the regeneration of the former Westfield site is being compromised.
"A few days after the plan was approved by Fife Council a planning application for ten gas powered generators was submitted, which is not included in the masterplan.
"Another application has just been submitted asking for the go ahead for a biomass power plant, which was originally submitted in 2007. Again, this is not in the masterplan.
"This makes a complete mockery of the masterplan and posses another question — does anyone really know what's going on?
"Meantime, Fife Council's planning committee needs to withhold planning permission for both these applications until a full understanding of the situation is established."
Councillors approved plans by Hargreaves Services in October to develop Westfield into a green energy and industrial park, with the Durham-based firm claiming that as many as 2,500 jobs could be created by the development.
However, subsequent plans for a natural gas-fuelled power station have drawn criticism, with Scottish Greens MSP Mark Ruskell claiming that the application went against the spirit of the company's green intentions for the site.
Hargreaves, however, has defended its position, claiming that the power station is necessary to allow construction work to take place, with the company's finance director Iain Cockburn insisting that it is not deviating from its masterplan objectives.
The firm is also to establish a public liaison group to address any concerns, with Mr Cockburn adding: "While there are always issues with any development, we are very open to working with local communities to make sure that any development is carried 
out in a way that takes notice of local concerns and objectives."
Turbine plan does not compromise masterplan, says Fife Council
Fife Council says that it has no reason to believe that the original masterplan for the Westfield site has been compromised by subsequent applications to develop the area.
Chris Smith, the region's lead officer for major business and customer service in its planning department, said: "Fife Council considers that the recent planning application for the installation of up to ten small gas turbines housed within standard shipping container units would not significantly compromise the wider Westfield Masterplan agreed by members of the Central Area Planning Committee.
"Whilst officers fully appreciate it would have been helpful to have included these units within the original indicative masterplan layout, their inclusion would not undermine the green credentials proposed for the site as a whole.
"Whilst a recent application has also been received relating to an earlier biomass plant application from 2007 on an adjacent site, the submission makes very clear that the earlier permission has now expired but as there were legal requirements imposed on the land at that time the proposal was approved, these legal impediments now require to be removed from the land title.
"In terms of the future development of the site as a whole, regular planned discussions are held between the applicants and Fife Council officers and in due course detailed applications, in line with the approved indicative masterplan, are expected to be submitted for further consideration."