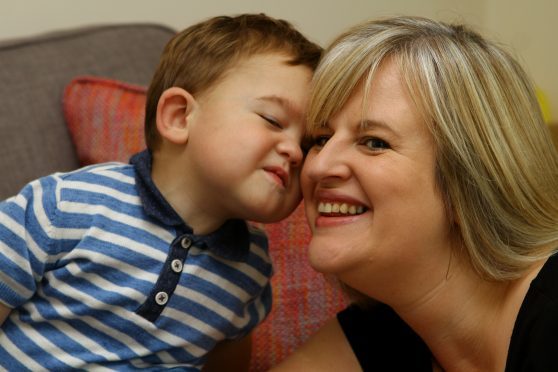 Brave toddler Daniel Cornet is recovering in hospital after undergoing a kidney transplant.
The tot, from Cairneyhill in Fife, was on his feet, with a little help from his parents, just two days after receiving a live kidney transplant from a relative.
His parents, Louise Paton and Nicky Cornet, said Daniel was doing well after the operation last week but he still faces a "huge battle" as he recovers from the procedure.
Posting on Facebook, Louise said: "Daniel has had a good day today. Managed a little stand up with physio and daddy and another one with me.
"He's been in a great mood too. So far the kidney is working well.
"Keeping saying our prayers that everything keeps going in the right direction."
Daniel's family said the first week after the transplant would be "very tough" for the three-year-old.
But so far the youngster has made an encouraging recovery.
The family said the donor, who wants to remain anonymous, was also doing well.
They added that they had been "overwhelmed" by good wishes and thanked everyone who had offered their support.
Before the operation, Daniel had to endure 10-hour dialysis sessions every night.
He was born with renal failure and at 10 months old became Scotland's youngest dialysis patient.
Earlier this year, Daniel's mum Louise Paton highlighted the importance of organ donation to coincide with NHS Blood and Transplant's Let's Talk About It campaign.
Daniel himself has also helped raise awareness about organ donation as an ambassador for the Live Life Give Life charity.
Before the transplant he had already endured 14 operations, septicaemia and countless hospital trips.
But it is hoped the transplant will give him a chance of a more normal life, free from lengthy dialysis sessions and tubes which prevent him from going swimming.
Before the transplant, Louise said "We were asked whether we would put him on the transplant list or look for a live donation.
"We picked the live donation because myself and Daniel's dad both wanted to try to donate, and so did other people in the family.
"A live donation lasts longer and works better."