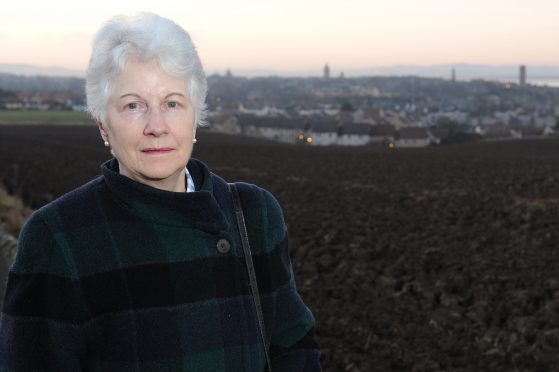 The woman who waged a £170,000 battle to protect her home town from a 'tsunami' of development has spoken out again against expansion of St Andrews.
Penny Uprichard's David and Goliath struggle against the Fife Structure Plan went to the UK Supreme Court in London in 2013, but she failed to convince judges to stop the town being "overwhelmed".
As plans progress for St Andrews West, which would see 1,100 new homes built on the edge of the historic town, she issued a reminder of the potential impact.
Ms Uprichard said: "St Andrews has been here for 800 years and has evolved over that period.
"But this is not evolution, it is destruction for financial gain."
A strategy to extend St Andrews was mapped out by Fife Council in its 2006 Fife Structure Plan, which attracted 2,500 objections.
The document also provided the framework for the equally contentious Cupar North proposal for more than 1,400 new homes.
A community council leader was quoted 10 years ago stating that Fife Council had a "fixation with economic development at the expense of the environment".
Ms Uprichard said: "Now that the western extension appears to be coming closer to reality, the statement that St Andrews is to become an economic driver for the whole of Fife is even more alarming.
"Clearly this goal will not be delayed by any considerations for the environment.
"The possibilities for traffic gridlock — first mentioned in a traffic report commissioned by Fife Council in 2003 — seem even more likely.
"Nothing can be done to change the town's medieval street pattern, or the fact that the university and the council have continued to approve developments adding up to thousands of residents and students, without increasing the facilities in the town."
Ms Uprichard said the number of objections to the 2006 structure plan was four times that of any structure plan before it, and she alleged none had been taken into account.
She also said the strategy apparently ignored a 2003 study which labelled much of the expansion land as inappropriate for development.
Bill Lindsay, the council's development plan service manager, said: "The St Andrews West strategic development area has been considered, confirmed and approved through various iterations of the development plan over the last 10 years at strategic and local development plan level, including their associated examinations."
He said the 2003 study was taken into account in earlier plans and added: "A further study was commissioned from the same consultant in 2009. This was used to inform the content of the St Andrews and East Fife Local Plan and the landscape mitigation and protection built into policy and the local plan and local development plan."