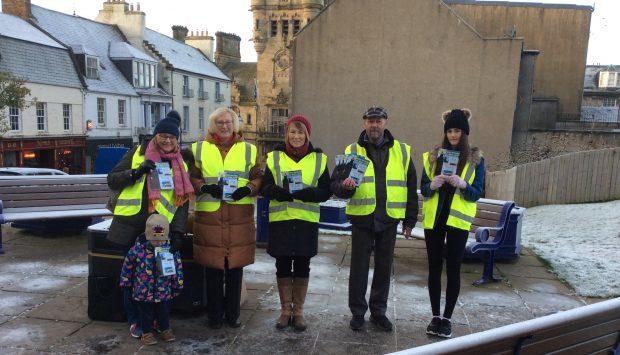 New apprentices will need to be fired up to lead first footers on a chilly new year walk around Dunfermline.
Local history buff Jack Pryde has decided to look to the future after 30 years of organising the New Year historical walk around Scotland's ancient capital and has recruited apprentices from Fife College to help him and the other guides on January 2.
It is hoped they can be trained to eventually combine their qualifications and work experience to provide a sustainable future for tourism in Dunfermline.
Adele Bradford and Keith Wallace are two of Jack's apprentices and both have ambitions to work in tourism after college.
Adele is particularly keen to train as a guide as she hopes to take that experience overseas to start her career in international tourism.
Jack said: "Getting on the career ladder is difficult for young people nowadays and having work experience and an insight into what tourists actually want can certainly help.
"I have been organising the New Year walk for the past 30 years and thought that I would benefit from some new blood in the business and that it would be a great project for the students to get their teeth into."
Audrey White, Travel and Tourism tutor at Fife College said: "The students have really risen to the challenge of researching Dunfermline's history, training with Jack to learn how to ensure that tourists enjoy the event and seeing how the theory works in practice."
The walk is a popular fixture in the festive calendar, hosting around 200 people each year, many of whom come from overseas.
Jack and his team of guides provide historical information, anecdotes and their interpretation of events as the walk passes through the town.
The walk starts at 1.30pm at the Mercat Cross in Dunfermline High Street and ends at The Fire Station Creative.
It is free but places should be reserved by collecting a free ticket from Sew, Yarn, Crafty on the High Street or at The Fire Station Creative.