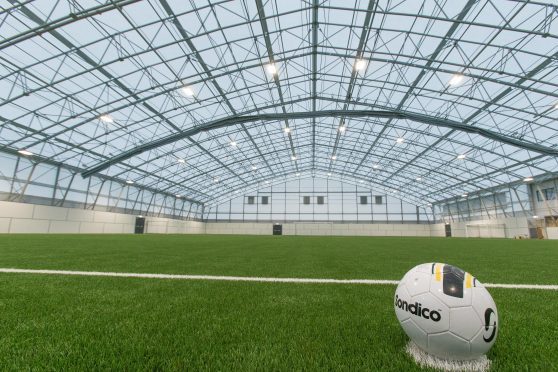 Fife's footballers will enjoy facilities fit for the sport's top stars when a new, state-of-the-art academy opens its doors next month.
The multi-million pound indoor centre at Glenrothes' Michael Woods Centre has been heralded as a game-changer, with claims that it will help the region's top talent fulfil its potential.
With the big kick-off scheduled for the end of the month, there are hopes leading teams will be attracted to the £1.8 million hub, the first of its kind on Scotland's east coast.
Councillor Judy Hamilton, the region's convener for community services, said: "This facility will allow us to offer a real focus on training and development, strengthening the good work already being done by the council's football development team.
"We're committed to increasing opportunities for people to take part in sport and physical activity and this training facility will help us to offer a stronger pathway for Fife's footballers."
The complex will be home to the Fife Football Performance Academy and the Fife Elite Football Academy, where the kingdom's next generation of footballers can be nurtured.
Funding of £1.8 million for the centre has come from Fife Council, with a further £500,000 allocated from sportscotland.
Demand for the new facility is expected to be high, particularly in the winter months, when outdoor training is at the mercy of the weather.
However, members of the public will also be able to book space on the 60x40m 3G playing surface, equivalent to the eight-a-side outdoor pitch in place at the Michael Woods Centre.
With some of football's top clubs, including FC Barcelona, Manchester United and Manchester City, having used Fife as a training base in recent years, there are hopes that stars such as Lionel Messi and Paul Pogba could one day be put through their paces on the artificial grass surface.
Ed Watson, chief executive for Fife Sports and Leisure Trust, said: "The Michael Woods Sports and Leisure Centre continues to be one of the trust's most well-attended centres, offering the local community affordable access to physical activity opportunities.
"The addition of a dedicated indoor facility for football and rugby use is a real boost for the centre and staff are very much looking forward to strengthening partnership working with clubs and sporting bodies to maximise its potential.
"We also look forward to welcoming local customers who want to take advantage of this fantastic facility."