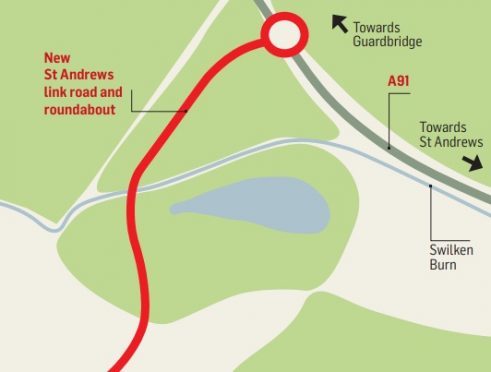 Community councillors have called for construction of the road vital for a new Madras College to be delayed for more comprehensive planning.
A section of the proposed link road to the St Andrews western expansion could be built earlier to allow access to the £50 million secondary school to be created at Langlands.
However, opinion is divided again in the wake of widespread support for selection of a site near the University of St Andrews playing fields for the school.
Several members of the Royal Burgh of St Andrews Community Council have objected as individuals to the planning application for the road, claiming it is premature, coming before production of a master plan for St Andrews West where 1,100 new homes are proposed.
The community council has also objected as a group, but only to the route chosen and the plan for a toucan crossing, rather than a bridge or underpass.
Local group Parent Voice has urged those opposing the proposed road to remember the decade-long wait for a new school and division caused by wrangling over its location.
The community councillors claim Fife Council would be reneging on earlier commitments if it determined the planning application from the St Andrews West LLP development consortium at this stage.
They said: "Following the protracted debacle of the unsuccessful attempt to build a new Madras College at Pipeland that wasted over three years, sowed bitter division within the community and cost council tax payers £3.5 million, residents of the town might, not unreasonably, have expected the procedure for the next application associated with the school to be done by the book.
"We do not wish to see the same mismanagement occurring in the development of the St Andrews West SDA (strategic development area).
"In particular, this time there should be, at the outset, a thorough appraisal of the implications of the development."
They said the public must be able to see the route of the entire road, not simply a 'stump', and that the council said in its 2012 local plan that a master plan would set this out.
They also raised safety concerns for children and cyclists using the pavements, crossing and cycle paths proposed, said there was a lack of transport and environmental impact assessment and that an alternative route ruled out by the developer would be better.
The objection to the council was signed by Izzy Corbin, Neil Dobson, Penelope Fraser, Ian Goudie, Dr Gordon Shepherd and Penny Uprichard.
As reported previously by The Courier, objectors have criticised the route chosen for the road, cutting through an arboretum containing prized tree specimens.
The road from the A91 to Langlands would also run through habitats of protected animal species.
An alternative route was dismissed due to issues including flooding and constraints on St Andrews University, which owns the land.