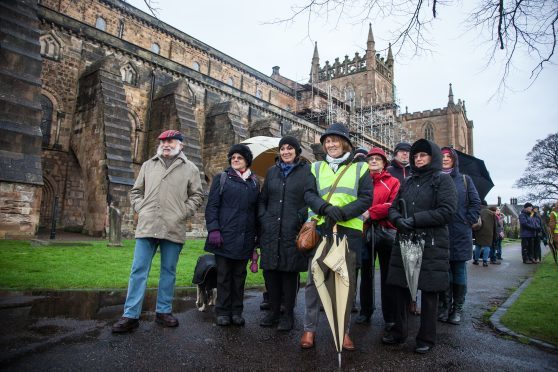 Crowds turned up to start the new year with a traditional walk through the historic centre of Dunfermline.
Now in its 32nd year, the New Year Heritage Walk sets off from the Mercat Cross in High Street and gives locals and visitors an insight into the history of Scotland's ancient capital.
Heritage guides take groups through the town centre, recounting fascinating facts about local landmarks including Dunfermline Abbey, Abbot House and the City Chambers.
The tour finished at Fire Station Creative in Carnegie Drive.
Jack Pryde from Discover Dunfermline Tours, said: "The first one was in 1986 and there's been one nearly every year since. I think it was cancelled once because of really bad snow."
This year, two tourism students from Fife College have been welcomed into the team of heritage guides.
Mr Pryde hopes that bringing in some younger guides will help secure the future of the New Year tradition.
He added: "They've got something I didn't have when I started doing this years ago – the internet. We had to read books upon books to get knowledge, but with the internet you can find things almost instantly.
"Hopefully we can spark a bit of enthusiasm among the younger generation to make this sustainable and ensure it continues."