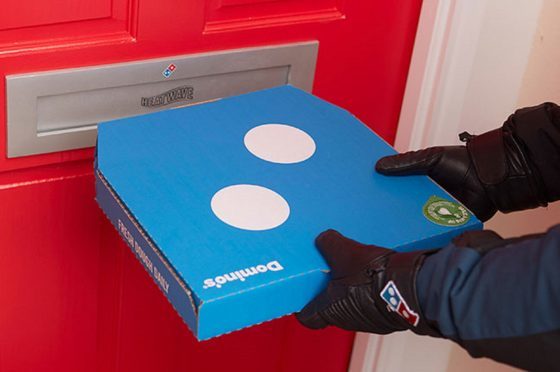 A Fife man has been banned from ordering pizza from one of his favourite takeaway restaurants after complaining his cheesy garlic bread came without cheese.
Andrew Wallace, who lives in Burntisland, opted for the snack as part of his delivery from the Domino's Pizza branch in Cowdenbeath High Street on New Year's Day.
But the 26-year-old was aghast to find that the side dish advertised as garlic pizza bread had arrived without cheese, and not for the first time either, so challenged the company via email.
Despite sending photographic proof of the fromage faux pas though, Andrew was doubly shocked to receive a reply from Domino's effectively telling him to go elsewhere to satisfy his cravings.
"Good evening Mr Wallace," it read.
"It has been decided that as we cannot meet your expectations, we will no longer be able to serve you."
While a stunned Mr Wallace sees the funny side now, he believes the customer service left a lot to be desired and took to Twitter to name and shame the popular pizza chain.
"I've complained before about lack of toppings but always provided photos to them," he told The Courier.
"It has always been Cowdenbeath, I've never had issues when it came from Kirkcaldy.
"I was annoyed because I have supplied a picture clearly showing that no cheese was on the garlic bread and they have dismissed it and told me they won't let me order again.
"I have challenged them back with an email back, but now I'm being ignored."
https://twitter.com/andyw0106/status/948219471201751041
Asked if he felt short-changed, he added: "It's not a cheap pizza, even when you do a deal.
"I've had two complaints with the Cowdenbeath shop but I've provided pictures on both occasions and I've probably ordered about 10 to 15 times from them of Kirkcaldy.
"The garlic bread is usually loaded with cheese but this one was completely cheese-less."
Nina Arnott, a spokesperson for Domino's, commented: ""Unfortunately Mr Wallace complained and sought compensation for several orders he made last year.
"Whilst we're proud of our pizza, it's clear we're unable to meet Mr Wallace's expectations. Therefore, we'd like to give him the opportunity to explore other food outlets."