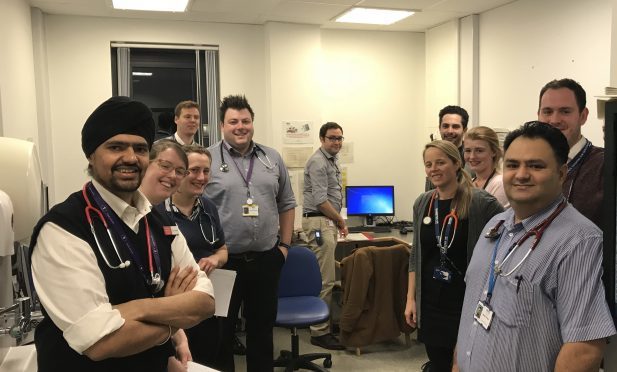 Fife's NHS staff have been praised for their "outstanding" response to an unprecedented level of pressure on health services this winter.
High levels of flu and norovirus combined with a spike in the number of people suffering fractures after falling on ice has seen a huge increase in people admitted to hospital over the last few weeks.
Health chiefs have described the situation as extremely challenging but said they have done all they could to ensure the continuation of a safe service of the highest standard.
In common with the rest of Scotland, NHS Fife has postponed non-urgent operations to concentrate on emergencies.
Medical director Dr Frances Elliot said she recognised people would be disappointed when a procedure was cancelled but explained it was the best way to keep things safe.
The situation shows no signs of abating and NHS Fife chair Tricia Marwick said: "We would be kidding ourselves if we think the challenges we have are not going to continue for a while longer."
Mrs Marwick has thanked staff across all disciplines including consultants, junior doctors, nurses, domestics and health records staff who volunteered to work extra shifts to ensure services continued to cope.
In the community, health and social care workers have also worked to enable patients to be discharged from hospital and supported in their own homes.
She told them: "The co-ordination between acute and community has been absolutely exemplary.
"I have been totally blown away and in awe of what you have done over this period."
Other action taken includes opening an extra 10 community beds, meaning every bed in the system is now available so pressure can be reduced in acute wards.
In addition, Whitefield Day Hospital in Dunfermline, which provides rehabilitation to adults with a range of medical conditions, has been temporarily closed so staff can be diverted to where they are most needed.
Mrs Marwick added: "I have made it absolutely clear we will do whatever we can.
"If that means we need to get more staff we'll do our best to do that.
"If we need to open up new wards, we'll open up new wards.
"There's no lack of will to work together to make sure our response in Fife is the best it can be."
Hospital staff have also come in for praise from grateful patients and their families.
One relieved father, Ally Miller from Leven, spent Christmas night and much of Boxing Day in Kirkcaldy's Victoria Hospital with his two-year-old son Henry, who had been suffering from breathing difficulties.
"The staff at the children's ward were brilliant, from the nurses to the doctors and consultants," said Ally.
"I couldn't pick a fault or anything negative if I tried."