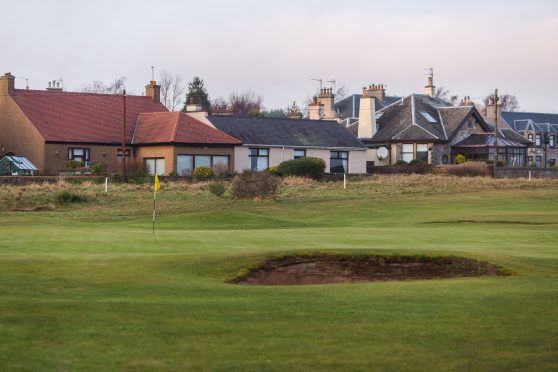 Furious golfers have accused authorities of taking health and safety to extremes after complaints from neighbours about errant golf balls sparked changes to an popular Fife course.
St Andrews caddie and keen golfer Colin Gerard branded events at Leven Links "simply perplexing" following anger from nearby residents on the East Links – which overlooks the 16th fairway – about stray shots.
Mr Gerard called for an end to the "madness", urging Leven Links not to tamper with the course simply to appease "petty" complaints.
He said: "What concerns me most is that an already cash-strapped Joint Links Committee is having to bend over backwards to pander to or pacify a few residents who have complained of errant golf balls.
"Leven Links realised there was a problem and have now moved the out-of-bounds quite significantly from the roadside.  Leven Links has also put signs on the 9th and 16th tees asking golfers to be aware of the surrounding properties.
"To me that's where it should end but we are now having to move the 16th fairway to the left in order to take out the dogleg.
"I doubt whether the St Andrews Links Trust would be so obliging if the same residents had bought property overlooking the 18th fairway at St Andrews."
Leven Thistle and Leven Golfing Society both play over the links.
Mr Gerard, a Leven Thistle member, said a fence could be erected or trees planted to reduce the risk without removing the dogleg, but suggested that could lead to further complaints about the effect it would have on property prices.
"Buying a house next to a golf course and complaining about errant golf balls is no different to buying a house next to a train line and complaining about the noise from passing trains or buying a flat above a pub and complaining about the noise.
"Common sense is required here, and I see this coming only from Leven Links Joint Committee.
"Not one of the members wants this change to take place. Furthermore, the majority of the residents are happy with the changes made to date."
A Leven Links Joint Committee spokesperson said: "As a responsible organisation Leven Links Joint Committee took the necessary steps in consultation with Fife Council to address concerns from a number of our neighbours bordering the golf course regarding damage to property from stray golf balls.
"With protection of property and persons foremost in our mind, the changes made have been to make golfers re-evaluate their course management at the 16th hole and minimise the risk from stray golf balls as best as practicably possible.
"Golfers do not deliberately intend for golf balls to stray from the course and hit property, however, on the odd occasion this does happen and with this in mind we would encourage all golfers to purchase their own golf insurance to ensure they are protected should an incident of this nature occur."
Lisa McCann, environmental health service manager at Fife Council, confirmed environmental health officers have been working with the committee to reduce stray golf balls – but stressed the council has never suggested play should be stopped.
"It is the responsibility of all businesses to effectively assess their activities to ensure that they do not harm themselves, their employees or anyone else that may be affected by their activities," she added.