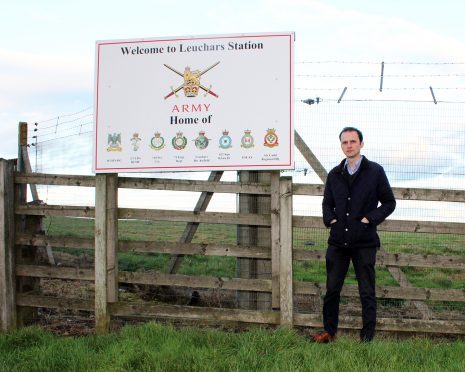 Assurances have been sought that the current crisis at Carillion will not put plans to improve military accommodation at Leuchars at risk.
North East Fife MP Stephen Gethins has written to Cabinet Office Minister David Lidington asking him to ensure that the Ministry of Defence (MoD) will be able to fulfil its commitments as part of a major investment at Leuchars Station despite the difficulties faced by Carillion in this past week.
The construction company – which delivered hundreds of contracts for the Government for the likes of hospitals, prisons and schools — went bust on Monday after losing money on contracts and running up debts of around £1.5 billion, with fears for thousands of jobs both directly and in the supply chain.
The MoD has suggested Carillion's demise will have no impact on services, but Mr Gethins has plenty of questions that still need to answered.
Mr Gethins said: "Several constituents who are serving military personnel have expressed concern about issues with the condition of their housing, for example dampness and infestation, and I have been assured by the MoD that improvements would be made by Carillion.
"However, given the current situation, I would ask for commitment from the Government to ensure that obligations to improve accommodation will be met whatever the outcome of the situation with Carillion.
"Service personnel based at Leuchars and elsewhere work extremely hard and they and their families deserve to live in good quality accommodation which is properly maintained and problems addressed to their satisfaction."
Mr Gethins said his thoughts were also with employees of the company who will be concerned for their jobs, as well as others indirectly affected by Carillion's difficulties.
The local MP has also submitted several Parliamentary Questions to the Cabinet Minister including asking what plans he has to ensure service families at Leuchars Station can make representations and engage with his department regarding the impact of the difficulties facing Carillion on accommodation improvement plans at the base.
In a statement, the MoD said: "Carillion's insolvency announcement has no direct impact on defence or the services provided to the armed forces and their families.
"Housing will continue to be serviced, catering facilities provided and buildings and offices cleaned."