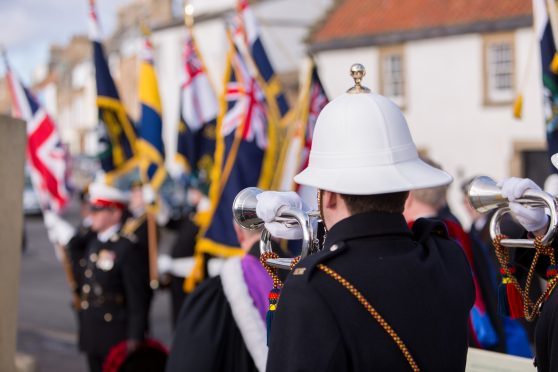 Sailors past and present joined Fife dignitaries to mark the centenary of one of Forth's biggest disasters.
A small church service was heldat Anstruther's St Ayles Church to mark 100 years since the so-called Battle of May Island, a catastrophic naval accident that claimed 104 lives off the kingdom's coastline.
The tragedy – a series of accidents – was largely covered up at the time and even today remains one of the lesser known chapters of local history.
Fife Provost Jim Leishman was among those who attended yesterday's service.
He acknowledged he had only learned the details of the episode recently.
"I was not aware of the tragedy and the deaths of 104 sailors," he said.
"It's like the Tay Bridge Disaster in that a lot of people know about it but they don't know the nitty gritty about these things.
"It's important people know the whole story."
It was under the cover of darkness on the night of January 31 1918 that around 40 Royal Navy vessels left Rosyth bound for Scapa Flow, Orkney.
The mixture of battleships, destroyers, cruisers and submarines were supposed to take part in Operation E.C.1, a top secret military exercise that was to involve the entire Grand Fleet of what was then the world's greatest naval power.
However, as the flotilla sailed out under thick fog, a catastrophic turn of events unfolded after a submarine was forced to make an evasive manoeuvre to avoid an oncoming minesweeper.
A chain reaction of collisions ensued and just 90 minutes later two submarines – K4 and K17 – had sunk to the bottom of the Forth while four others had suffered severe damage.
The cruiser HMS Fearless, which had been leading a subsequent flotilla of shipping was also damaged after colliding with K17.
Unaware of the tragedy taking place in the mist before them, several of the following destroyers cut through those submariners fighting for their lives in the freezing water.
The tragedy was covered up at the time and the subsequent investigation and court martial process was kept out of the public eye.
The term "The Battle of May Island" was adopted in black humour to describe the tragic events of that night.
Mr Leishman added: "It was a very nice service. A small church but a very big service in terms of significance.
"Everybody who was there should be proud of themselves."