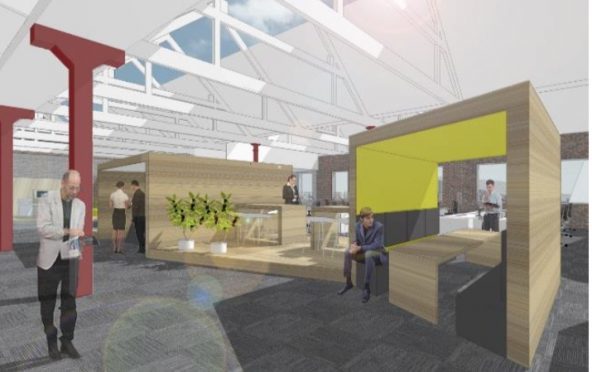 A major milestone in multi-million plans to relocate hundreds of university staff members from St Andrews to Guardbridge has been passed.
Councillors on Fife's north east planning committee have approved the latest planning application associated with St Andrews University's £20 million blueprint to turn the former Curtis Fine Papers Ltd paper mill site into state-of-the-art office space, paving the way for a phased relocation of staff from the end of 2019.
The latest 'approval of matters' application aimed to shed light on some of the finer details behind the plan to change the existing site use from general industrial buildings to business, storage and distribution use and provision of associated parking and landscaping.
The buildings will provide office space for around 520 library and professional services staff from the university, as well as lettable office space, library storage facilities and a new canteen which will be open to the wider public.
A proposed new three-storey entrance block will replace the blue, flat-roofed block which is due to be demolished, and will be set back from the white-painted façade of the former paper mill complex which fronts Station Road.
A total of 293 car parking spaces have been proposed, including the temporary provision of 140 spaces, although the university believes the need for parking will be reduced as sustainable travel measures are rolled out.
In his report to committee for consideration, case officer Nicolas Lopez recommended approval of the application subject to conditions.
"The proposed development will provide economic benefits to Guardbridge and will support the continued redevelopment of a prominent brownfield site.
"The proposal is also considered to be sympathetic to the character of the adjacent category B-listed terrace and no significant detrimental impacts in relation to transportation, ecology, amenity, flood risk or contamination have been identified.
"It is therefore concluded that the proposal is in full accord with the development plan and other relevant guidance."
It is thought around 100 jobs will be created during the project's two-year construction and fitting out phase. The university's hierarchy hope the move will not only ease pressure on office and parking space in St Andrews itself but will free up space in the town centre and North Haugh for teaching and research purposes.
University of St Andrews Quaestor and Factor Derek Watson said: "This is great news.
"We are delighted that councillors have given the green light for our plans for Eden Campus.
"This is a major strategic move for the University which will provide an exceptional working environment for our staff, breathe new life in the local economy of Guardbridge and have a beneficial impact on the town of St Andrews freeing up space for research and teaching."