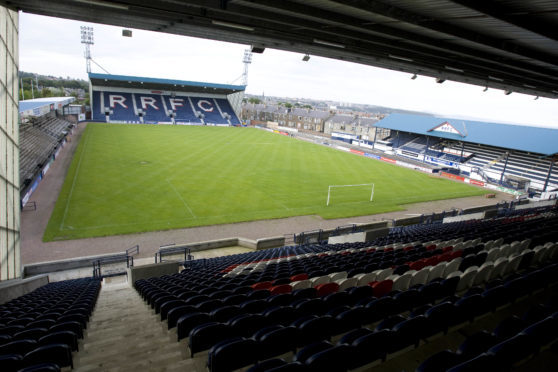 Raith Rovers have revealed plans to rip up the existing grass pitch at Stark's Park and replace it with a synthetic surface.
The Kirkcaldy club have been investigating the move for some time and a planning application has now been formally submitted to Fife Council for consideration.
The ambitious project is expected to cost at least £500,000 and would see the creation of an all-weather pitch which could be rented out for community use, with Rovers hoping the new surface will be in place in time for the start of next season.
Vice-chairman David Sinton insists the decision is the right one for the club.
He said: "We decided over a year ago that plastic pitches were the way to go for clubs like ourselves because it simply wasn't making economic sense to have a pitch you use once every two weeks.
"I think there are around 14 or 15 clubs with plastic pitches now in Scotland and everybody seems to be happy with them so we think it will put the club on a sound financial footing moving forward because it will save on costs.
"It will also enable us to rent the pitch out and hopefully that will generate revenue for the club as well.
"We're really hoping that it will become part of the community and we want as many people to be in there and using the facilities as possible, from walking football to youngsters.
"We've got consultants helping us and we're seeking quotes from various companies, but it is our intention to get it done as soon as possible.
"Obviously there's a tight window to get these sorts of things done, but we're hoping to get it done in the close season."
Mr Sinton added the Kirkcaldy club also have no immediate plans to move away from their current training base at the Michael Woods Sports Centre in Glenrothes, where the squad often train on a plastic pitch.
The project, if it gets the green light from Fife Council, will represent the beginning of another chapter at Rovers' historic Stark's Park home ground, which was formally opened back in 1891.
The last major redevelopment was in the mid-90s when the new North and South Stands were built, along with a new a 1,000-seat stand to join on to the 1980s Railway Stand.
With the railway running alongside the famous Fife stadium, Network Rail have been consulted about the plans but are understood to be supportive.
Martin Henderson, town planning technician at Network Rail, said: "After examining the proposal Network Rail considers that it will have no impact on railway infrastructure and therefore have no comments/objections to this application."
A spokesperson for sportscotland, another consultee, said the organisation did not object to the project, while Fife Council's environmental health team also had no comments to make.