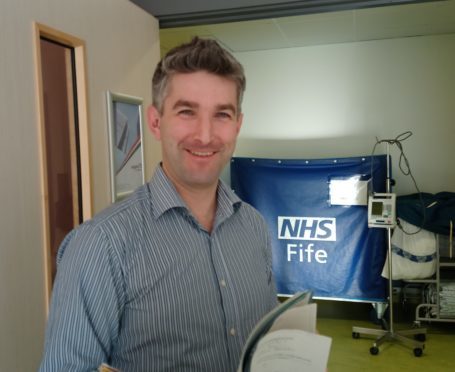 A caring Fife pharmacist has been nominated for an Unsung Hero Award for going beyond the call of duty.
Hospital pharmacist Iain Rivans, 41, sprang into action to help a chemotherapy patient who was suffering "the worst nausea you could imagine".
The woman, who is now in remission, put his name forward for a patients choice award after he arranged for anti-sickness medication to be delivered to her house.
She had been so ill over the weekend, she was unable to eat, drink or sleep, and was put through to Iain after phoning Victoria Hospital in Kirkcaldy for advice on Monday.
"Through tears I tried to explain my predicament and my inability to get help," she said in her submission for the award.
"He listened patiently and showed great compassion."
She added: "Iain phoned every day for the next few days to see how I was doing and when I thanked him he said cheerfully that it was all part of the service.
"Iain went way beyond the call of duty and his passion and dedication to the patients he encounters is something rare and worthy of note."
Mr Rivans, who is a specialist in treating cancer patients, previously worked at Dundee's Ninewells hospital and Edinburgh Cancer Centre. He started working at Victoria Hospital in 2013.
He said the inspiration behind his approach to patient care was his mother Jean.
With the blessing of wife Lara, he will be taking Jean to the awards ceremony in Manchester on Friday, where he will be the only person from Scotland on the shortlist.
He said: "My mum suffers from very bad bouts of depression and it can take seven or eight weeks for her to get back on her feet. I always keep in touch with my mum and especially so during these episodes so I am used to phoning her to check in on her.
"I could therefore relate to this patient being at home, feeling miserable so that is why I took her under my wing so to speak.
"I took a couple of calls from the patient when she phoned the ward and I could tell she was very upset with the situation.
He added that he was "humbled" by the nomination.
Jean said she could not wish for a better son.
"Even if he doesn't win, I think he's already a winner," she said.