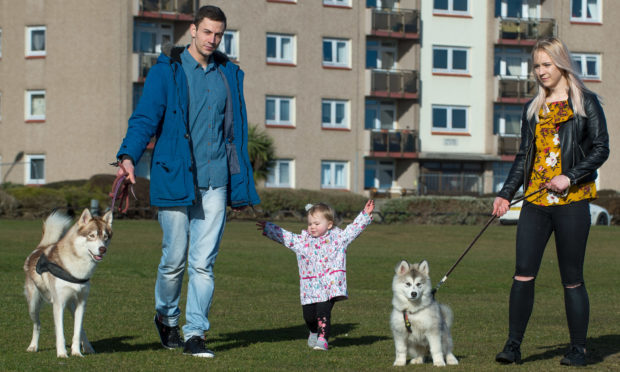 A heartbroken family face losing their home and their pets amid claims they were threatened by a knife-wielding neighbour.
Roksana Cernicka and husband Miroslav Cernicky are desperately seeking temporary accommodation with the help of Fife Council but have been unable to find anywhere that will accept their two beloved dogs.
The Kirkcaldy couple feel they are now being forced to choose between their safety and their pets which, they say, are part of the family and loved by 21-month-old daughter Emily.
Roksana, 20, said they were suffering stress and anxiety after being thrown into a situation which was not of their making.
"We've not done anything wrong, yet we're the ones losing everything," she said.
The nightmare situation stems from an incident at their Saunders Street home at the end of January, when a neighbour claimed their husky, Aurora, attacked his cat.
Roksana alleged: "He threatened to kill the dog because he claimed it nearly killed his cat.
"We phoned the police because he had a knife. We have since had a knife left on our doorstep and I had a message on my phone saying we had 24 hours to leave."
Roksana and Miroslav, 27, are now living in fear and looking for a new place to live.
"We want to leave the area but there's not enough houses and we're waiting and waiting," said Miroslav.
"We're in a very nice council flat at the moment and we've been offered temporary accommodation in Methil but we're not allowed the dogs. We can't find anywhere that will allow them."
As well as Aurora, the couple have a three-month-old husky puppy called Habbana.
"The dogs are part of our family," said Roksana. "They were our dream and they are Emily's best friends.
"We are nice people and we would be very sad if we were separated.
"This system is no good for people and we want to sort it out."
Fife Council's housing management lead officer, Andrew Wallace, said: "One of our housing officers is meeting with the family this week to discuss their case in full and hopefully find a suitable solution."
A man made a private appearance at Kirkcaldy Sheriff Court earlier this month in relation to the allegations and was released on bail.