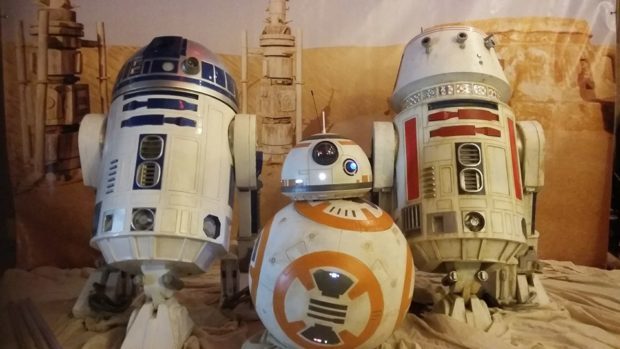 Women are leading the Comic Con scene in Dunfermline.
Dunfermline's Comic Con, on March 3, is attracting international names from the industry, with more than 30 comic book artists and writers coming from the USA, Russia, Finland, Ireland and the UK.
It is organised by two of the leading women in the Scottish comic scene, mother and daughter Louise and Sinead Grainger, who co-own Little Shop of Heroes.
In some parts of the world, the sector has been perceived as predominantly male, particularly in the United States. In Scotland, however, the comic scene is led by women.
Louise and Sinead make up two thirds of the Dunfermline team with husband and father Alby.
He credits Sinead, with driving the creative input for Dunfermline's Comic Con.
The other major Scottish comic event, Glasgow Comic Con is also organised by a woman, Nicola Love.
International stars appearing this year include LA- based Cecil Castellucci, the creator of Shade the Changing Girl for DC Young Animals, who has also won the Shuster Award for best Canadian writer of comics.
Other highlights include Marc Ellerby, who illustrates worldwide smash hit Rick and Morty, and Dr Who, and Dave McKean, who co-created Batman Arkham with Grant Morrison, a Scots writer, and designed the covers for the Sandman series of comics.
The event is increasing in scale – there will be 150 stalls this year compared to 100 in 2017, making this one of the largest comic conventions in Britain.
There will be a number of special panel discussions and child friendly creative activities as well as a citizen art project.
Little Shop of Heroes is the hub which galvanises more than 50 volunteers.
Participants love to speak with the creators of some of the most iconic comic book characters and be photographed with Star Wars movie props, Alby said.
Dunfermline Comic Con has grown year-on-year with more than 5,000 visitors from across the UK expected to descend on Scotland's new capital of comics for the day.
Tickets are on sale at facebook.com/dunfermlinecomiccon and in store at Little Shop of Heroes.
Event organisers have announced 10% of all adult ticket sales and any profits from the event will be contributed to their new Books for Schools charity, supplying graphic novels to all 19 of Fife's secondary schools.
Chris Foote, events manager of Dunfermline Delivers, added: "It's great to be supporting the Comic Con for 2018 and we look forward to the event showcasing Dunfermline for visitors into the town centre."