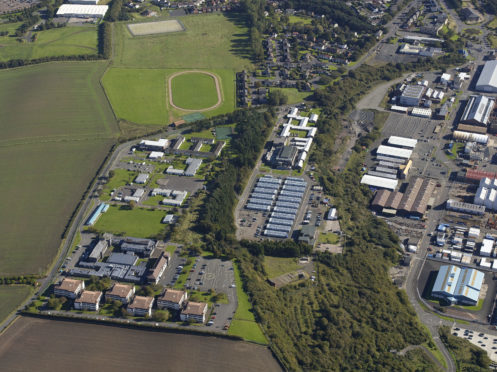 Question marks have been raised about the longer-term future of a Fife naval base which has been earmarked for closures.
Leaked documents have revealed Fife Council has expressed concerns about the "lack of clarity" from the Ministry of Defence over its plans for MoD Caledonia in Rosyth, one of eight Scottish defence sites to be axe by the UK Government by 2040.
The barracks, which provides accommodation for personnel who are part of the aircraft carrier programme and for other lodger units, are expected to shut by the end of 2022, although doubts have been cast over what will happen to the site beyond that point.
The issue was raised at a closed-doors meeting at Holyrood in December, during which it was agreed there are "considerable community assets" that could be realised if disposal of the site goes ahead, although confirmation was needed that any land and community facilities made available would be in a fit state to hand over to Fife Council.
It was also stressed there should be no liability costs for the council in relation to any asset transfer.
Minutes of the meeting revealed Lord Duncan, the Parliamentary Under Secretary of State for Scotland, agreed bilateral technical discussions between the council and the MoD should be "accelerated" when future housing and infrastructure requirements at the Leuchars army base had been confirmed.
Fife Council said this week there is "no update" on plans for MoD Caledonia but Douglas Chapman, MP for Dunfermline and West Fife and the SNP spokesperson for defence procurement, has highlighted a number of issues that still need to be addressed.
"As far as I am aware there are plans to retain MoD Caledonia until the early 2020s, although it was on the original Tory Government hitlist of Ministry of Defence facilities which were destined to reduce the UK's military footprint in Scotland," he said.
"But there are a whole range of issues still to be discussed and part of that is how Rosyth maintains sufficient naval crew accommodation should the carriers return to Rosyth for refit or for repair in the future.
"There are also a number of ongoing military groups who are either based at Caledonia or use the facilities there and the lack of any plans or certainty from the UK government is a real concern.
"I would certainly like to hear of any proposals from either the community, Fife Council or others if they think the facilities and land at Caledonia could be used for a positive future use should closure become a reality.
"However, it has to be said that current facilities would require some substantial investment to bring them up to community facility standard."
A tri-service MoD site, Caledonia's role is to provide the best professional support services possible to the Royal Navy and more generally the MoD on the east coast of Scotland.
Lodger units have included the Band of HM Royal Marines Scotland and the Royal Naval Acquaint Centre, while the site also hosts the Royal Naval Headquarters Scotland and Northern Ireland, HQ Royal Marines Reserve Scotland, the Royal Naval Reserve Unit HMS Scotia, a tri-Service Resettlement Centre, HQ Northern Area Sea Cadet Corps and 1145 Dunfermline Squadron Air Training Corps.