Exceptionally high tides and wintry weather has sparked renewed fears a Fife fishing village's pier could soon disappear – leaving coastal properties exposed to the elements.
Tides as high as 5.9 metres coupled with a strong easterly wind has seen Lower Largo's coast and historic pier hammered in recent days, causing yet more parts of the breakwater to crumble into the sea.
Now concerned locals fear it is only a matter of time before the structure, which is believed to be one of Scotland's last rubble piers, is gone for good, meaning properties along the shoreline will be totally at the weather's mercy.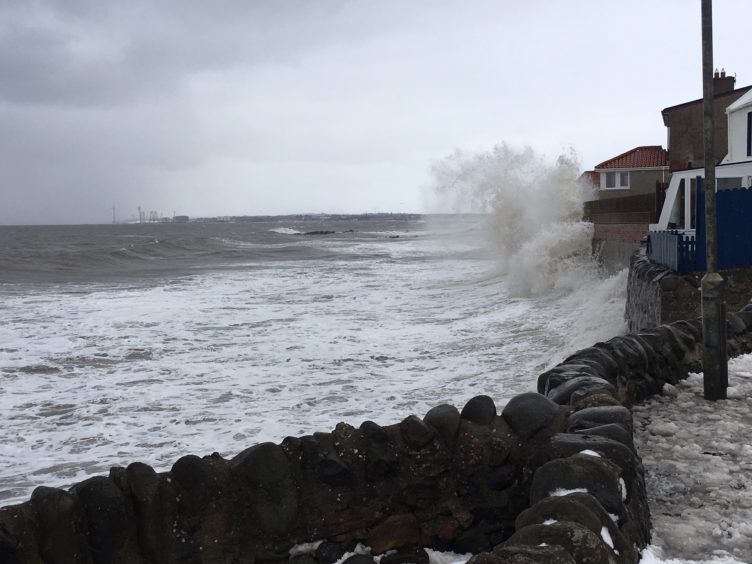 A Save Largo Pier campaign was set up by residents several years ago to push for improvement work alongside the Crusoe Hotel and other properties in the area, although that fizzled out.
With the recent appalling conditions bringing the situation back into sharp focus there is likely to be a new drive to take the pier back into community ownership.
Local man Dan Casey watched in disbelief as another huge chunk of the pier collapsed into the sea over the weekend, leaving what is left exposed to further disintegration.
"It has been lying in a state of disrepair for a number of years now and frankly villagers are fuming that very little progress seems to have been made to have it fixed," he said.
Anyone who worried about the pier today did so for good reason! Another huge chunk has been washed away (watch 'til the end to see). Also, notice the MASSIVE tree trunk hurled up by the waves 😶

Posted by Dan Casey on Thursday, 1 March 2018
"Talks between the private owner of the pier and the local community have stalled in the past.
"The pier must be handed over to the community in order to obtain the funds required for a repair. However, for reasons I don't know, this hasn't happened yet.
"I hope this latest round of destruction adds a sense of urgency to the matter.
"The longer we wait the more expensive and difficult the pier will be to fix and many are now worried that we will soon reach a point where a repair would be impossible."
Lower Largo remains a very popular holiday destination for visitors to Fife and is famous as the 1676 birthplace of Alexander Selkirk, the sailor who provided the inspiration for Daniel Defoe's book Robinson Crusoe.
A signpost at the harbour also points to Juan Fernandez Island, some 7,500 miles away, where Selkirk lived for more than four years as a castaway.
The pier is believed to have been constructed in around 1770 and extended in the early part of the 19th century, but there are now real fears it could soon vanish completely.
Local woman Louise Robb added: "Without much needed protection now it can't be long before it disappears leaving the hotel and surrounding property exposed to the power of the sea."