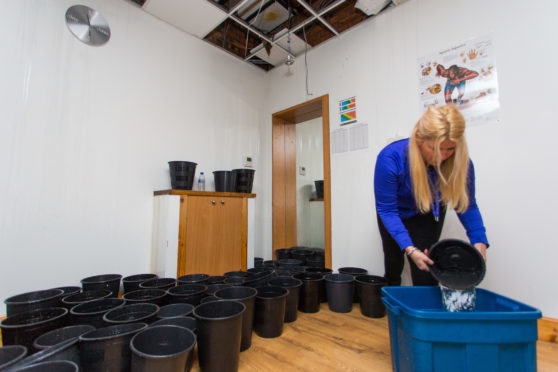 A Fife fitness studio was among the casualties of the beast from the east, scuppering its owner's emigration to Australia.
Part of the roof of the Mind and Body Studio, in Kirkcaldy, was blown off and the premises flooded as snow was followed by heavy rainfall.
Co-owner Charlann Battle is selling the business and was preparing to fly Down Under to join husband Keith with their three sons.
She is now desperately attempting to repair the building and deal with insurers to allow conclusion of the sale, which was delayed by the onset of the storm last week.
Studio manager Lorna Wallace said: "We have tried to get people in for repairs but with the weather roofers were limited as to what they could do and it's getting worse.
"Between the thaw and the heavy rain, about 50% of the studios is damaged."
Despite the disruption, classes continue and services usually provided in the treatment rooms where ceilings have collapsed have been shifted temporarily to the unscathed fitness studios.
Lorna said it was now unclear when Charlann, of Dunfermline, and sons Murray, 10, Owen, seven, and five-year-old Harris, would be able to join Keith who flew out several weeks ago to start his new job.
She said: "It was all at the final stages, if it hadn't been for the snow last week it would have been concluded.
"Keith has already gone out and Charlann was tying up the sale of the business.
"We are all devastated for her. She was meant to be doing workshops this week which would have been her final farewell to her clients.
"It was meant to be an exciting time for her, now her hands are tied until the assessors are done."
Assessors are due to visit the Kinghorn Road premises on Wednesday.