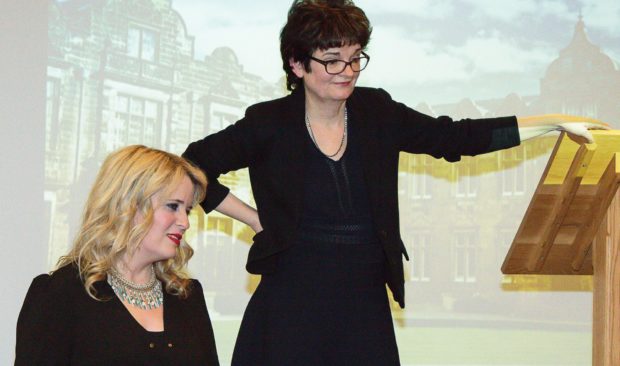 "We are still not there yet" when it comes to diversity and equality, according to Professor Sally Mapstone, Principal of the University of St Andrews.
She joined award-winning businesswoman Nicola Dames in sharing her career story and the women who inspired her on an International Women's Day Inspiring Women event hosted by St Andrews Business Club.
Professor Mapstone talked about the university's female role models who inspired her in her career.
These include Elizabeth Garrett, who became the first woman to matriculate there, the first woman to graduate Agnes Forbes Blackadder and Margaret Fairlie, who became the first female professor in Scotland after being appointed Professor of Obstetrics and Gynaecology at University College, Dundee, then part of the University of St Andrews.
Despite diversity and equality at St Andrews moving on greatly since – now a fifth of its professors are women and 44% of research students are female – Professor  Mapstone said she felt "we are still not there yet".
This is the reason she has started several initiatives to improve that, including a mentoring programme for women in senior roles named after Elizabeth Garrett.
Ms Dames shared how she created her company, Vanilla Blush, in 2008 to provide attractive underwear for women like her who have stomas as a result of by bowel disease.
She now designs, makes and sells that and swimwear for all genders and is about to extend the range into sportswear.
In 2011, Vanilla Blush had its first range listed as a class 1 medical device and in 2014 was named post-surgery brand of the year.
Both speakers answered questions on their advice for women and who inspired them.
Professor Mapstone named Michelle Obama, whom she's met while Ms Dames nominated the First Minister, Nicola Sturgeon.