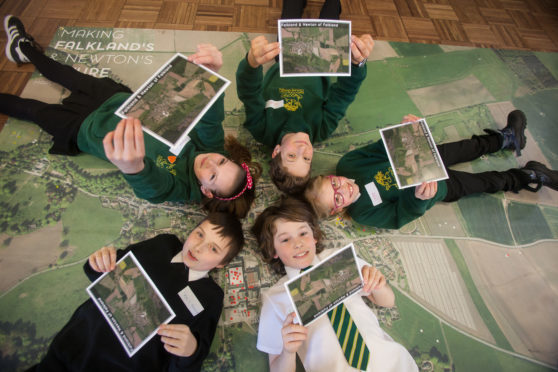 Children from Falkland and Newton of Falkland have kick-started a new conversation about what the future could hold for the area.
'Making Falkland's and Newton's Future' will be an interactive multi-day planning event later this month to discuss, debate and decide the future of the two neighbouring Fife villages, as Falkland and Newton are next to benefit from Scottish Government Making Places Initiative funding.
Planning and design workshops as part of the charrette will be held in the Community Hall and Old Town Hall from Tuesday March 20 to Thursday March 22, with a final exhibition and a reporting back session planned for April 18.
With the initiative dependent on community ideas, organisers decided there was no better place to start than tapping into youth at a workshop at Falkland Primary School.
Youngsters there joined with Bell Baxter High School pupils who used to attend Falkland Primary to discuss their favourite places in the area and what might make the villages better places in which to live, work and play over the coming years.
All ages are being invited to have their say to help develop a realistic action plan, and Laura Munro, headteacher at Falkland Primary, said she was keen to see what ideas are brought forth to reflect the modern impact of life on a historical village.
She said issues such as school parking can be dealt with, adding: "It will be interesting to see what issues come up. This really is the start of the discussion."
Common themes raised by the youngsters were a lack of play equipment at the two main parks in the area, a desire for an astroturf pitch or skate park on the site of the former Smith Anderson factory, and calls for a leisure centre or swimming pool.
Youngsters also made the point that the nearest big supermarket is in Glenrothes, while one enthusiastic pupil was keen to see a zip line introduced in the area.
Rod Crawford, vice chair of Falkland and Newton of Falkland Community Council, reiterated his call for locals of all ages to contribute as part of the charrette process.
"In terms of involvement, we don't want this just to be the 'usual suspects'; we want to hear Falkland's and Newton's unheard voices. We want to hear the voices of the whole community."