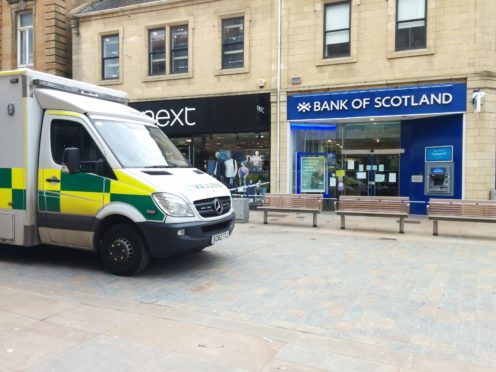 Part of Kirkcaldy High Street was cordoned off after a man "had his face slashed" in a bank.
Staff at the town centre branch of Bank of Scotland were left shaken after the drama unfolded in front of their eyes at around 2.30pm on Wednesday.
Police confirmed officers were called to a disturbance involving two men at the branch.
One eyewitness who was in a nearby shop said she saw a man outside the bank with blood on his face after the altercation.
"I saw the guy who had his face slashed," she said.
"His face was cut open. At first I thought he had been punched and thought 'what's happened to him?'
"Then I noticed there was blood."
The injured man is believed to have been taken to hospital by ambulance, accompanied by police officers.
His injuries are not thought to be life threatening.
Police officers spoke to shocked Bank of Scotland employees during the course of the afternoon, with the branch shut for the remainder of the day.
A Bank of Scotland spokesman said: "The branch was cordoned off and staff are talking to police at the moment. They are co-operating with police to help them get to the bottom of what happened."
The incident appeared to be over quickly, with a number of shopkeepers saying they were first alerted to the fact something had happened when police vehicles arrived.
Officers spoke to shopkeepers in the vicinity and asked to view their CCTV footage.
The area in front of the bank, up to the row of benches outside the premises, was cordoned off with police tape and officers could be seen inside.
A handful of members of the public congregated at the cordon, curious to know what had happened.
Rumours circulated that the bank had been held up, but this was dismissed by Police Scotland.