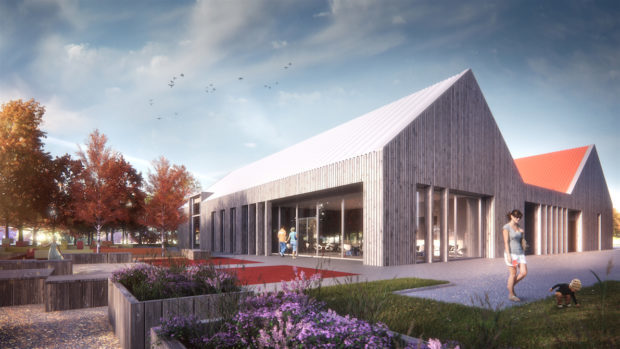 Work on an ambitious £2.8 million community-run hub in Tayport will begin within weeks following a further funding boost.
Tayport Community Trust (TCT) was last week awarded £500,000 of Regeneration Capital Grant Funding, the final amount needed to get the project under way.
TCT chairman Richard Tough, said: "We have been waiting for this decision for some time and now it has been confirmed we are not only delighted, we are ready to award the building contract."
The work will see the new state-of-the-art hub created on the site of the town's former steel fabrication works, which was demolished after lying derelict for 20 years.
The new building will offer tourism and sports facilities, a large cafe and space for community meetings and events.
A camping and caravan site is also planned in the longer term to take advantage of the hundreds of visitors to nearby Tentsmuir Forest and those using the coastal path and cycle routes.
Mr Tough said TCT volunteers had worked to raise money for the project and carried out a great deal of planning on how the building should serve the needs of local people.
"We have kept in regular touch with local residents to ensure they continue to support this project which will give Tayport first class sports and meeting facilities in the town," he said.
TCT trustee Andrew Arbuckle said he could not think of any other community which had raised such a large sum of money.
"I have been totally impressed with the professionalism and commitment of the TCT team," he said.
"They are well organised, totally focused and thoroughly deserve the result they have now achieved."
The trust managed to secure £1.2m from the Big Lottery Fund and £500,000 from Fife Council.
Other finance was granted by various community trusts and foundations, as well as Scotscraig Golf Club and members of the local community.
The trust has also secured funding for its community garden project.
PLANT (People Learning About Nature in Tayport) has been awarded £22,876 from the Scottish Government's Climate Challenge Fund which helps local groups reduce carbon emissions.
Over the next two years, the group will offer free support to residents to help them cut their household carbon footprints due to travel, home energy and food.
PLANT administrator Jessie Roberts said: "This will bring local people together to understand climate change and to find practical ways of reducing their carbon footprints."