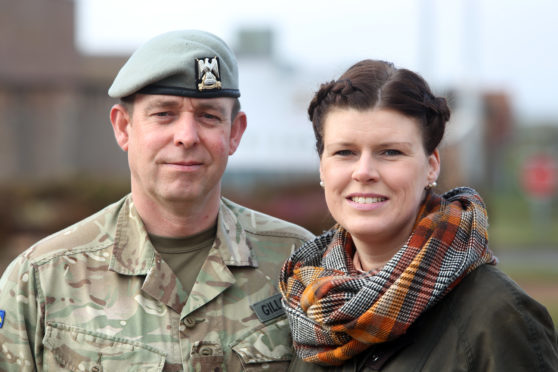 The German wife of a Leuchars soldier says the UK Government's attitude to EU nationals in the wake of Brexit has echoes of "1940s Germany".
Joy Gillon would lose the time she has built up towards securing British citizenship in the likely scenario her Scots Dragoon Guards husband is posted abroad for more than a year.
Military spouses across the UK face similar uncertainty, leaving many worrying about the future.
Mrs Gillon, a mother-of-three, said the UK Government's approach was making her feel vulnerable and unwelcome.
"It's not easy to be a military wife. You have to give up your life and you never how long you are going to be in one place," she said.
"We do not know what's happening so we live with this uncertainty and we cannot make big decisions in the long term."
"When we came to the UK I had to leave my home, my family and my job and since Brexit I feel unwanted here.
"I have German friends in England who have been told they should go home now. It feels like Germany in the 1940s."
Mrs Gillon married her Scottish husband Kevin in 2012.
They lived together at the British Army base at Fallingbostel, Germany, before moving to Leuchars three years ago.
The 39-year-old fears that if the family is sent abroad, the three years of continuous residence she has accumulated would be wiped out — and that could have financial consequences on her return to the UK, as well putting her bid for British citizenship in doubt.
Mrs Gillon says many spouses were feeling vulnerable about their futures here in the event of their marriages failing before they achieve permanent resident status after five years.
Stephen Gethins, the North East Fife MP, who has been helping Mrs Gillon with her case, said this treatment of military spouses was "not good enough".
"The UK Government has failed to address the impact their plans to leave the European Union will have on our daily lives and the impact it will have on ordinary, hard-working people including service personnel and their families," the SNP MP added.
A spokeswoman for the Home Office said it had reached an agreement with the EU that means its citizens will live in the UK in the same way as they do now.
"Those EU citizens who have already had five years of continuous residence in the UK will be eligible to apply for settled status," she added.
"Others will be able to apply for leave to remain in the UK to build up five years' continuous residence and will then be eligible for settled status.
"We are considering carefully how we can ensure that EU citizen family members of armed forces personnel are not unfairly disadvantaged by absences from the UK as a result of overseas postings.
"Further detail on the eligibility for settled status will be published in due course."