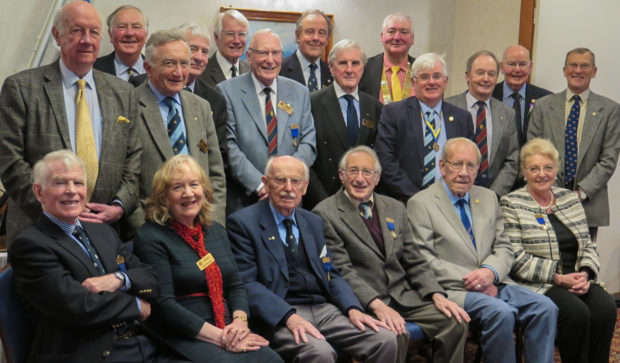 The great and the good gathered together on Wednesday to mark a major milestone for the Rotary Club of St Andrews.
When local GP James Orr presided over the Charter dinner of the recently formed organisation in 1928, he could not have foreseen the changes the club would witness over the next 90 years.
Indeed, from an initial five members, the club has grown to 70 members today, many of whom were present at the Scores Hotel in St Andrews to celebrate the club's 90th birthday.
Past president Ken Smith was given the honour of chairing proceedings and thanked members past and present for everything they have done over the years.
"I wish to thank the club for giving me the honour," he said.
"When I completed my presidential year, some of the members were kind enough to say: 'You didn't do a bad job, we should get you back some day'.
"So here I am 43 years later.
"A club cannot survive if it remains static – it must change and move with the times and I'm sure we have. Some of our old favourite events have ceased and been replaced with others, and no doubt these will be replaced with others through time.
"But one thing is constant. Despite the changes, our club remains a welcoming and friendly club and holds true to the Rotary motto 'Service Above Self'."
Following an enjoyable lunch, archivist Ian Johnston took members and guests through a brief history of the club – although he didn't spend too long on the original 1928 minute book.
"Reading old minute books can be as dry as dust," he joked.
Mr Johnston also pointed out that an ivory gavel used in 1928 to bring meetings to order was subsequently replaced by a ship's bell in 1968 – with a bell still used to this day.
Rotaract Club member Maddie Fuller, from Florida, also told how Rotary had shaped her whole student experience in St Andrews and pledged to help take the club forward in future years.
Finally, former past president Sylvia Donaldson, who was the first lady president of the club, concluded by talking about the amazing projects Rotary International is involved with across the globe – as well as some of her own memories and experiences.
"It's about Rotary working together to put things right," she concluded.
St Andrews Rotary: A History
The St Andrews club is a daughter club of the Rotary Club of Dundee and the two clubs remain in regular contact with the annual golf match played alternately over Downfield and St Andrews Links keenly contested.
Until recent years a requirement of Rotary membership was to live and work in the town. The new club was fortunate to have attracted prominent local businessmen and professionals as the five initial members. They invited others and soon the club had 20 members.
James Orr, a highly respected general practitioner, was to be followed as President by David Rusack whose hotel still bears his name.
Soon afterwards, Alfred Scott took the chair. He was an architect of some distinction. Both his sons, Hunter and Michael, were to join the club.
After being president, Hunter became District Governor and, ultimately, president of Rotary International Britain and Ireland (RIBI).
It is interesting to note, in passing, that St Andrews also produced a National President of both Round Table Britain and Ireland (RTBI) and of Ladies Circle Britain and Ireland (LCBI).
Norrie Hood and Sheena Dishington , respectively, held these offices in successive years.
The club continued to meet throughout the second word war when many members were engaged in civil defence.
It "adopted" the steam trawler Peggy Nutten, one of five vessels built for the Nutten line by the Hall Russell yard in Aberdeen.
For the duration of hostilities, the club provided various forms of comforts for the brave crew who worked fearless for the vital food supplies of a nation under siege.
However, it was not until 1955 – the 50th anniversary of Rotary's founding in Chicago – that the club, under the presidency of solicitor John Caithness, inaugurated the longest running project in the club's history.
The International Golf Week started in a small way but was soon to attract entrants from England, Ireland and Wales as well as Scotland.
Organisers of the 64th event of its kind, which runs from June 10 to 14, have promised that this year's will be the best ever.
Fellowship is the basis of all Rotary and it was solely for this purpose that the International Golf Week was begun.
However, Rotarian visitors have always been keen to contribute to the work of the club so, in recent years, an element of fundraising has been introduced. Consequently, in the past five years, the event has contributed £20,000 to the charity account. This significantly augments the £60,000 raised from all other events over the same period.
For many years, Rotary has encouraged female members to join and two, in St Andrews Rotary, Sylvia Donaldson and Kathleen Thain, have become president – so far.
Kilrymont has produced a district governor with another in the wings.
To find out more about Rotary and what it does locally, nationally and around the world, visit standrewsrotary.net.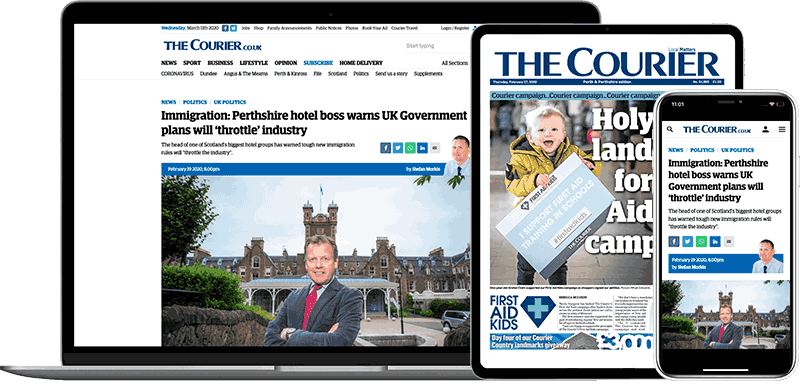 Help support quality local journalism … become a digital subscriber to The Courier
For as little as £5.99 a month you can access all of our content, including Premium articles.
Subscribe