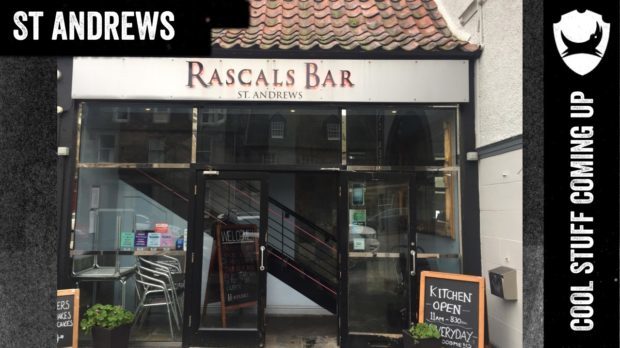 The owner of a Fife bar has slammed craft beer giant BrewDog as "arrogant" for announcing his pub as their St Andrews location before a deal has been done.
BrewDog announced plans to open new bars in St Andrews and Perth at its AGM in front of 8,000 investors at the Aberdeen Exhibition and Conference Centre at the weekend.
The presentation by BrewDog founders James Watt and Martin Dickie to their 'equity for punks' investors identified Rascals Bar in North Street, St Andrews as the location of a BrewDog pub to open this year.
However, Rascals' owner Colin Donaldson strenuously denied that a deal with the Ellon-based brewer had been done.
He said he put the pub on the market last year and was considering several offers.
Mr Donaldson said: "There have been a few interested parties, including BrewDog. I have not accepted or declined any offer at this time.
"BrewDog's lawyer is on the phone every day and is well aware that we have not accepted their offer.
"I was shocked at what has been announced at their AGM and put on their website.
"No offers I have received so far make me inclined to sell the business."
Mr Donaldson said he was concerned his staff might look for other work as a result of the BrewDog announcement and has sought to reassure the bar's staff and customers through social media.
"It's a bit arrogant to say the least to announce something like this at their AGM when they know the business is still in my name," he added.
BrewDog, which confirmed the Rascals site as its St Andrews location to The Courier on Tuesday, did not respond to Rascals Bar's comments.
During the 'Cool Stuff Coming Up' section of the presentation given at the company's AGM, the Perth location was shown as the Caffe Canto Bistro on George Street in Perth.
The owners of the bistro said: "We can't comment at this point in time."
BrewDog, which has a bar in Dundee, announced plans to open six new bars in Scotland, four in England and seven international locations this year.
The other Scottish bars due to open in 2018 are Inverurie, Peterhead, Glasgow and Edinburgh Airport.
The international locations for new bars include Seoul, Paris, Barcelona and Reykjavik.