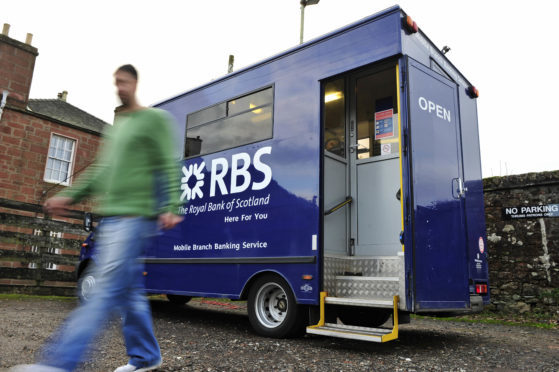 Banks, post offices, buses.
Three essential services that appear to be disappearing from our towns and villages at a rate of knots to be replaced with poorer relations – or nothing at all.
I wonder if the executives taking the decisions to cut services have ever actually used them.
Take last week's news about the Royal Bank of Scotland slashing its mobile banking service.
It's no wonder customers feel betrayed, given that the vans were supposed to make up for the face-to-face contact lost as branches up and down the country close.
In Fife, RBS confirmed that the Thursday service in Anstruther would be axed from April 30.
The van will also reduce the time it spends in various places, including Kelty, Dalgety Bay and Cowdenbeath, meaning even less time for people to do their banking.
RBS defended the move, naturally, describing mobile branch routes as a "lifeline" for communities that have never had access to a bank, or where an existing branch is closing.
But if this is its idea of a lifeline, why are we seeing an already sparse service spread even thinner?
I get the business model and the "use it or lose it" rationale. If there's no demand for a services, it does not make economic sense to provide it.
But banks, post offices and bus services are so much more than money-makers. They provide a vital lifeline for people our communities – particularly the older generations.
And that's why there is such a furore every time these facilities are taken away. People use them and they need them.
Forgive the sweeping generalisation, but most older people I know are simply not that tech savvy.
Not naming any names (mother), but finding their way around a remote control can sometimes be an aspiration too far.
Telling them to do online banking is like asking them to explain quantum physics.
Which is why if you walk into a bank or Post Office branch in Kirkcaldy, Glenrothes, or Dunfermline at lunchtime, you had better be prepared for a wait.
These places are mobbed and even with the advent of online banking and depositing cash and cheques via machines, there will always be the odd occasion when the most computer literate of us will need to talk to a person.
Mobile services will never replace a fully functioning bank branch but it's better than no service at all.
If branches really do have to close, we need more vans and more time slots in the areas affected – not fewer.