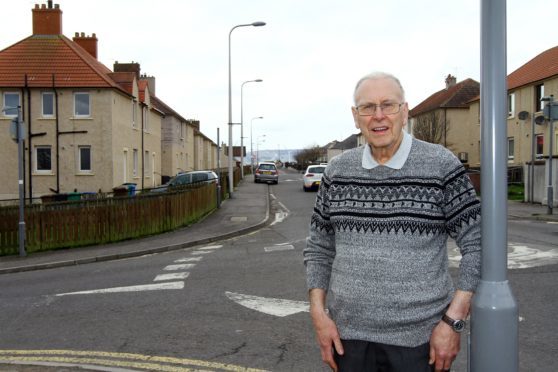 A row has broken out after authorities hauled down British flags strewn around a Fife village before last Sunday's Old Firm game.
Residents in Kinglassie have branded the decision to order the removal of the Union flags as "political correctness gone mad" and "pathetic" as local Rangers supporters hung bunting and flags from lampposts along Main Street before the weekend's Scottish Cup semi-final clash with Celtic at Hampden.
Celtic convincingly won the match 4-0 to book their place in May's final, but the actions of Fife Council workers at taxpayers' expense has seemingly caused more consternation among some than the result.
Local man David Thomson, who stressed he has no allegiance to either side of the Glasgow divide, said the sight of workmen being called out to take flags down on a Sunday afternoon was "sad, unnecessary and almost pathetic".
"Now, whilst there is undoubted competitive rivalry there are no dark, sinister sectarian undertones in the village," he claimed.
"Nevertheless, the local authority, in their wisdom deemed it necessary to dispatch a squad of  its workers, complete with hoist vehicles, to dismantle the offending flags, and on a Sunday.
"In normal circumstances people have to wait inordinate periods of time to gain access to a worker for their own domestic repairs, the latter normally being as scarce as hen's teeth.
"Yet here on a Sunday at considerable cost to ratepayers this charade was played out.
"As a nation we are increasingly sucking all the colour and fun out of life and we may soon find ourselves as a drab, grey-coloured and insipid world in which only the PC brigade will be satisfied and content."
Fife Council was asked by Police Scotland to take the materials down after a complaint by a member of the public.
Bill Liddle, maintenance operations manager at Fife Council, said: "If anyone wants to put bunting or flags up on lampposts they should get in touch to ask for permission.
"We normally grant permission for events like gala days or fund raising but it wouldn't be appropriate to grant permission for occasions like this."
Glenrothes Community Sergeant Kirk Donnelly confirmed police had asked its community safety partners at the council to take down the bunting and flags after being alerted to their presence by a "member of the community".
"Whilst no offences had been committed, they were removed as a preventative measure for public safety reasons given the ongoing Scottish Cup semi final tie and are retained as found property," Sergeant Donnelly noted.