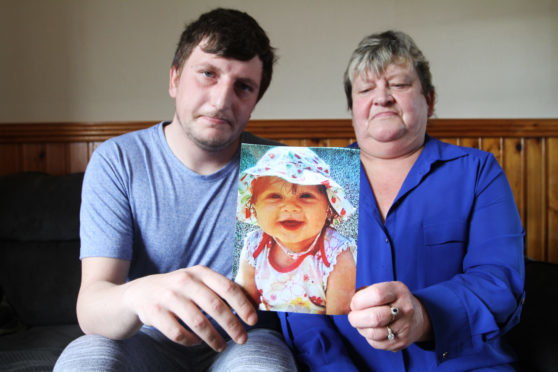 The father of tragic Fife toddler Madison Horn has paid tribute to his precious daughter as they mark the fourth anniversary of her murder.
Thomas Haldane Jnr, from Lochore, told how he is still haunted by the final moments of the two-year-old's life. She was beaten to death in 2014.
The 26-year-old told how his happy, smiley daughter loved nothing more than going to the beach and wearing her wellies.
But he admits every day remains a struggle for him and his parents, Alexis and Thomas Snr, as they battle to come to terms with the manner of her death.
Her killer, Kevin Park, was jailed for a minimum of 22 years after being found guilty of  murdering the beautiful toddler, leaving her with 65 separate injuries.
Thomas Jnr said: "We'll be going up to Maddie's grave on Friday to lay flowers like we do every year. It doesn't get any easier.
"We just have to take it day by day. Some days you just can't concentrate. It's hard and there are thoughts that just keep going through my head.
"What was her last words? Was it dad? Or gran? Or help? Was she scared? I just don't know and I don't think I will ever understand.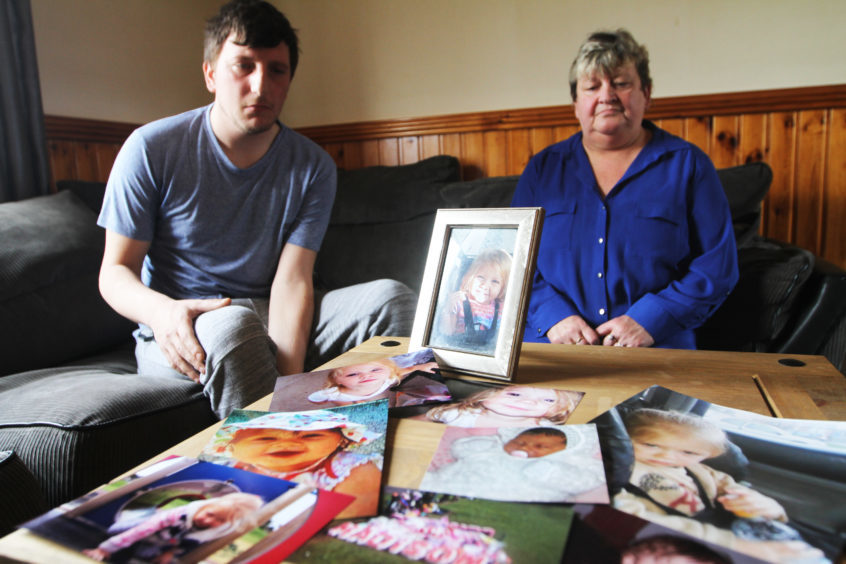 "It would have been different if she had died of an illness but not the way she went. She couldn't even defend herself. She was just learning her words too.
"She was just starting to put her wee sentences together. She laughed, giggled and would run around shouting 'Dad' and 'Di'".
"She loved her wellies. It would be the height of summer and she'd still be wearing them.
"She had the most beautiful eyes and you just fell in love with her instantly.
"My mum lost her daughter, my sister, to cancer, and when Madison was born, she didn't replace Denise but she brought a wee bit of comfort back.
"When she was killed, that just shattered our whole lives. She was a happy chappy – she did not deserve what happened to her. She was defenceless.
"Even though he's got a long sentence, we've got to go through this for the rest of our lives."
Gran, Alexis, 60, reminisced about the cheeky toddler's nickname for her dad and told how she still keeps all Madison's belongings.
She said: "She used to call her dad Thomas dude. She'd shout 'Dude, your dinner's ready'. "And he wouldn't come down so she'd have to shout dad. But as soon as he walked into the room, she'd say call him dude again.
"We've still got her stuff, we'll never get rid of it. When Maddy died, we died. My heart's still broken yet.
"Everything is all different now, even Christmas. I think I'd accept it more if she had had an illness but it was the way she died that devastated me."
Grandad Thomas Snr shared a heartwarming ritual he would perform with little Maddison when returning home from work.
The 58-year-old said: "I used to have to keep a sandwich in my piece box when I was coming home from night shift along with a wee packet of wine gums and chilli heatwave Doritos.
"She used to wait, jumping about all over the bedroom and when she'd hear my car drawing up, she'd run downstairs.
"She'd put her bottle down, say 'Cuppa tea Maddie me', grab the stuff out the piece box and away up the stairs she went to watch Toy Story."
The family will lay flowers on Madison's grave as they have done every year since her brutal killing in 2014.
Kevin Park, the former boyfriend of the youngster's mother Ann-Marie White, was found guilty of murder following a trial at the High Court in Glasgow.
The killer, then 27, savagely beat the youngster by punching and stamping before striking her head off a wall at least twice.
He left her with 65 injuries including a fractured skull, tears in her liver and bruising to her head and body.
A case review was launched in the aftermath of her murder but found that he death could not have been anticipated by the various agencies.
It found that there were no social work or health service concerns before Madison's death and NHS Fife records described her as being a well-adjusted child.
The report did note that Park was a known domestic abuser with a history of violence and recommended that the criminal justice system should share such information with child protection agencies.