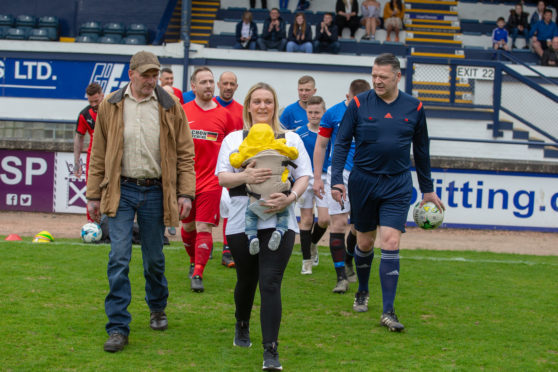 Friends of a young father who died suddenly earlier this year took to the pitch at Stark's Park for a match in his memory.
Ryan Bonner was just 32 when he collapsed at his Kirkcaldy home in February, leaving behind partner Clare, 31, and baby son Hadden.
He was a keen amateur footballer and his friends decided it would be a fitting tribute to organise a charity game, which Raith Rovers agreed to host.
Organiser Alan Miller, 32, who had known Ryan all his life, said: "It was great. Everybody had a good time.
"Ryan wasn't a shy person and he would have loved it, with everybody watching.
"He would have been in his element."
At the final whistle, Hadden's Heroes, featuring Ryan's former team mates, beat the Ryan's Rangers squad, which included some of his closest friends, by six goals to four.
Ryan was a Rangers supporter, as well as playing in the Fife Sunday Amateur Football League with clubs including Bar Itza, Lang Toun Thistle, Kittys and Templehall Tavern.
The match raised an estimated £3,000 which will be split between two charities.
Some of the proceeds will go to the Marfan Trust, a charity which supports medical research into the diagnosis and treatment of Marfan Syndrome patients.
Ryan had been affected by the syndrome, which causes heart problems, throughout his life.
There will also be a donation to the Merry Poppins centre, where Clare is leading a project to set up a sensory environment for visually impaired children.
Hadden was born with oculocutaneous albinism, a condition affecting the hair, skin and eyes.
The fundraising total was set to be boosted by a charity race night, taking place on Sunday night.
Among those cheering on the teams were many of Ryan's workmates from BiFab.
Alan added: "There were a few moments in the game where we had a good laugh. The crowd got really involved.
"We were all taken aback by everybody's willingness to come out and show their support and show what Ryan meant to them."