Worried locals fear a child will be killed by speeding drivers after a beloved pet husky dog was mown down in a Fife street.
In a bizarre twist locals said the errant driver "faked a foreign accent" when confronted during Tuesday evening's horrifying incident in Abbey Wall Road, Pittenweem.
After stopping for a few moments, he then drove off again.
And there are concerns speeding motorists are endangering lives of youngsters, with one worried local saying he'll start Crowdfunding in a desperate bid to install speed bumps in the residential road leading to the village's harbour.
The incident unfolded as Charlie Brown was leaving daughter Kimberley's home with the family's faithful husky Skye beside him.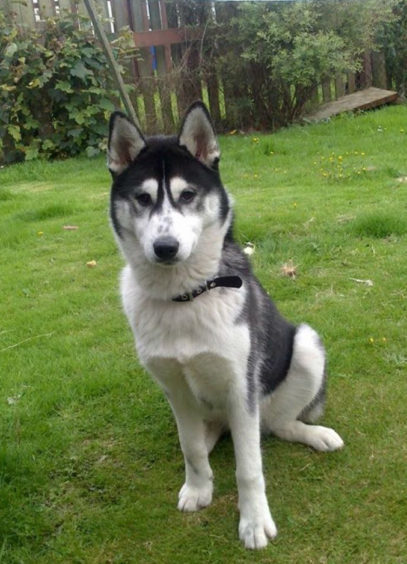 Living just across the road, Mr Brown said the friendly four-year-old normally walks obediently alongside him.
But the family's beloved pet had spotted two other dogs and had moved away.
That's when he saw the car, which he said was going far too fast for the 20mph zone.
He attempted to alert the driver, but sadly he hit Skye, pushing her along the road.
Tragically, the impact had severed the young dog's spine, and the family faced the heartbreaking decision to let Skye go.
Neighbour Darren Burton said: "The driver stopped very briefly, but pretended to be French or something.
"He then just left."
Mr Burton added: "It is bad enough my friend's dog has been killed, but we've been asking for speed bumps for years.
"Sadly it's been a dog, but it could easily be a child knocked down.
"I've been trying to highlight to the council something needs to be done."
Mr Brown said he was still numb following the incident.
"I shouted to him to slow down, but he didn't.
"He didn't even say sorry, just put on a foreign accent.
"He broke her back and just drove away – two young boys ran up to try to take a photo but he drove through them," he claimed.
"Skye was so friendly, very loveable, everybody loved her.
"Even when she was lying on the ground there were still idiots flying up the road, not slowing down.
"There are lots of kids in the street, what if it had been one of them?"
A shocked and saddened Kimberley, who is nine months pregnant, added: "Every second house has a child, it's horrific to think it could have been a child.
"If he'd been doing 20 our dog might have had a broken leg not been killed."
Fife Council said it would liaise with police to identify if additional traffic calming measures are required.
A Police Scotland spokesperson said: "Police in Fife have received a report of a road traffic collision which involved a dog being hit in Pittenweem.
"The incident was reported to police at around 5.30pm on Tuesday April 24.
"Inquiries into the full circumstances are ongoing."