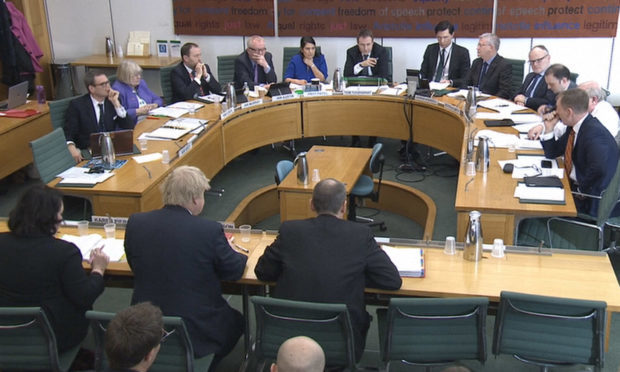 The House of Commons Foreign Affairs Committee will travel to St Andrews on Thursday to hear what the community understands by the term "Global Britain".
Since June 2016, Government ministers have repeatedlyinsisted the UK's decision to leave the EU does not mean it is leaving Europe or withdrawing from the wider world.
Foreign affairs, trade, aid and defence have all been cited by ministers in reference to Global Britain but, according to the committee's initial report in March, the Government has failed to produce a specific policy.
The committee has set out a list of questions for the UK Government, including policy priorities, areas where the UK can have the greatest impact, the resources and infrastructure needed to support the Government's aspirations and metrics that can be used to measure success.
It is hoped the 50-strong audience in St Andrews will be able to contribute to this discussion.
Committee chairman Tom Tugendhat MP will be joined by committee members Stephen Gethins, SNP MP for North East Fife, Labour MP Ian Murray, and Conservative Priti Patel at St Andrews University's Parliament Hall.
Tickets for the event are sold out.
Mr Tugendhat said: "Now is the time to take stock of the UK's role in the world, not just because the UK is discussing how we leave the EU but also in light of changes in the international system and the global balance of power.
"This is a crucial time and we have invited students, academics and local business to come and tell us what Global Britain means to them and how it matters to them."
The sessions are part of a rolling inquiry during which the committee is gathering the views of the public, key figures and ministers, in order to glean an understanding and interpretation of what Global Britain will mean for the UK's foreign policy strategy.
North East Fife MP Stephen Gethins, who has been a member of the Foreign Affairs Committee since 2015, said he was delighted that the committee had taken up his offer of visiting St Andrews as part of its roadshow programme.
Mr Gethins, who is also SNP spokesperson for Foreign Affairs and Europe, said: "It is very important that committees get out of London and engage with a cross-section of people across the country that is why I asked the Committee to come to North East Fife.
"We have had an excellent response to the public engagement session in Parliament Hall tomorrow and I look forward to hearing the views of people from across North East Fife about the issues that matter to them.
"I am very grateful to the University of St Andrews for hosting this event and I know the committee will receive a very warm welcome to St Andrews."