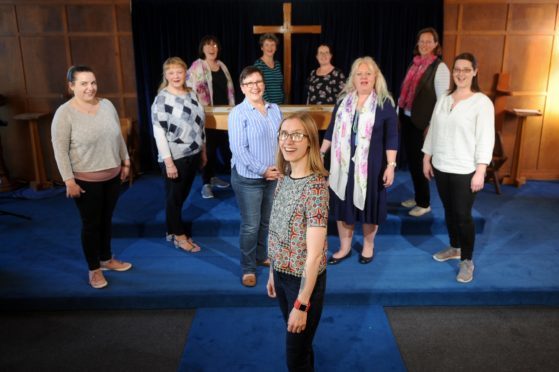 A Fife army wife has been invited to sing on stage with renowned choirmaster Gareth Malone.
Samantha Stevenson has been hand picked by the Military Wives Choir patron to sing the number one hit Wherever You Are at the Caird Hall in Dundee on June 1.
The concert will be the second time mum-of-two Samantha has teamed up with Malone, having earned a solo spot in the original choir in 2011.
She told how she was "flabbergasted" when he phoned her last week and asked her to sing alongside him on her home soil.
Samantha, 35, who lives in Leuchars but is originally from Perth, said: "I've kept in touch with Gareth over the years and he phoned me telling me he was coming to Dundee.
"I said it was fabulous as it's my neck of the woods and he said I must go watch the show. Then he said we were doing Wherever You Are and I said it was fantastic but it would be weird to see it performed.
"And that's when he said he would love me to come up and sing with them to do the solo. I was slightly flabbergasted. I've not sung this for practically about six years.
"When he asked, the only thing that came into my head was I've got to practice.
"I'm extremely excited and it's a wonderful opportunity to have him conduct me again and to sing such a wonderful, emotional song again but in Dundee."
Samantha, who is now a member of the Leuchars Military Wives Choir, reminisced about previously performing the number one song.
She said: "Back in 2011, Gareth wanted to do one of his choir series based around military wives and how they get on especially when their husbands are in Afghan.
"Obviously a bit bunch of our men were out there at that time so it was extremely relevant.
"All the way through the programme it was very exciting and we knew something big was going to happen for the end of the programme and then he announced that we would be singing at the Festival of Remembrance in front of the Queen, live on TV.
"He enlisted the help of Paul Mellor who composed for the royal wedding and he wrote us a song based on our letters from our husbands and it was called Wherever You Are.
"We had to do auditions and I was lucky enough to get the solo so we performed at the Albert Hall.
"Then we were told we were going to London and we were going to record it as a single.
"It sort of went slightly crazy and everyone was Military Wives mad. We were performing for the Prime Minister and singing at prestigious events."