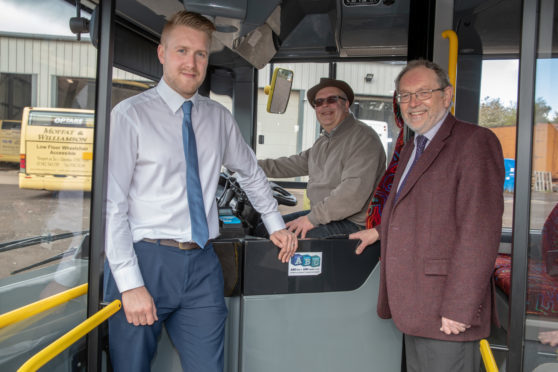 A tenacious local campaign has ensured the survival of a lifeline bus route.
There was widespread dismay when Stagecoach withdrew the 77B day daytime service serving hilly parts of Newport and Wormit. Moffat and Williamson has come on board with a trial replacement service.
The company was approached by Liberal Democrat councillors Tim Brett and Jonny Tepp to see if there was any hope something could be done.
Moffat and Williamson said decisions to withdraw a service are not taken lightly and normally because passenger numbers do not make it financially viable.
The firm has agreed with the councillors to trial a bus for a minimum of six months and run a timetable along similar lines to the existing one using a school contract bus and fitting runs in between.
The local community has been urged to use the service to help in its continued existence and success.
Many in the north east Fife area were devastated Stagecoach chose to withdraw the service but are delighted that Moffat and Wiliamson have found a way to run the service for the next six months at least.
At the time Stagecoach said continued low passenger usage of off peak service 77B journeys meant these are no longer sustainable and it was unfortunate that the perceived level of demand did not match usage figures.
The decision to withdraw the service was taken despite a very strong show of support from local residents who attended a packed community council meeting.
The service offered a lifeline to residents in the hilly parts of Newport and Wormit, allowing an elderly population to shop in Dundee, attend GP appointments and collect medication in Newport.
The councillors said: "We were devastated to hear that Stagecoach decided not to continue the 77B service.
"It is a vital lifeline for constituents in parts of our ward.
"Because of the concern that this is causing we wanted to leave no stone unturned in our efforts to keep this bus service open."
They added they approached the company "very much as a white knight".